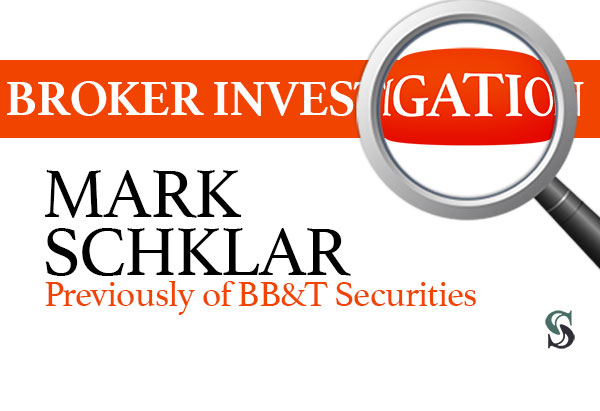 The Sonn Law Group is currently investigating claims pertaining to former registered investment broker Mark Schklar. For reference, Mr. Schklar's CRD number is 1952816. According to records available through FINRA's BrokerCheck tool, Mr. Schklar has most recently been employed at Ridgeway & Conger, Inc (2015-2016), BB&T Securities, LLC (2012-2015) and Scott & Stringfellow, LLC (2006-2013).
Recently, FINRA closed a case involving Mark Schklar and alleged misconduct in the form of selling away. Without admitting or denying any wrongdoing, Mr. Schklar consented to the sanctions proposed by Department of Enforcement, those being a $10,000 fine along with an eight-month suspension from the securities industry.
More detailed information regarding this case can be found using FINRA's Disciplinary Actions search tool, and inputting the case reference number (2015044509301).
The Complaint Against Mark Schklar
The relevant time period in this disciplinary proceeding ran from February 2013 through January 2015. At that time Mark Schklar was employed as a registered securities broker at BB&T Securities. As such, he had professional obligations to his employer and his clients. During this period, Mr. Schklar recommended and facilitated several private transactions involving a marijuana equipment manufacturing company.
Registered brokers are required to seek approval for private transactions from their member firm. Then, their member firm is responsible for overseeing the securities transaction and ensuring that proper due diligence is conducted. However, in this case, Mr. Schklar failed to inform his employer of the securities transactions. In all, he facilitated the sale of more than 8,000,000 shares of the marijuana manufacturing firm to at least four different investors.
The value these of private transactions totaled nearly $290,000. This activity is a violation of FINRA Rule 3280, which prohibits brokers from participating in undisclosed private transactions.
Additionally, Mr. Schklar also made an arrangement to make a private loan with one of his clients. Once again, he failed to seek the proper approval. Without disclosing it to his employer, he loaned a BB&T Securities customer $80,000. In doing so, he committed a violation of FINRA Rule 3240(a), which establishes strict criteria for how private loans to firm customers are to be overseen.
At the very least, Mr. Schklar had a legal duty to notify his employer of the loan and to get approval from his employer before making the loan. However, not only did Mr. Schklar fail to seek such approval, he actually answered 'no' on a compliance document that directly asked whether or not he had lent any money to any of the firm's clients.
Contact Our Securities Fraud Attorneys Today
At the Sonn Law Group, we have extensive experience handling fraud claims involving selling away. If you have lost money investing with Mark Schklar, BB&T Securities or any other broker, our attorneys can help.
To request a free review of your case, please do not hesitate to call us today at 844-689-5754. Our main office is located in Aventura, Florida, and we represent investors throughout the United States, Puerto Rico, Mexico and South America.