The claim alleges that Lighthouse Financial Advisors Rena Morris and Stephen Holt failed to conduct due diligence regarding a DST investment.
The Sonn Law Group is investigating allegations that Rena Morris and Stephen Holt failed to conduct required due diligence regarding investments. If you or a family member has suffered losses investing, we want to discuss your case. Please contact us today for a free review of your case.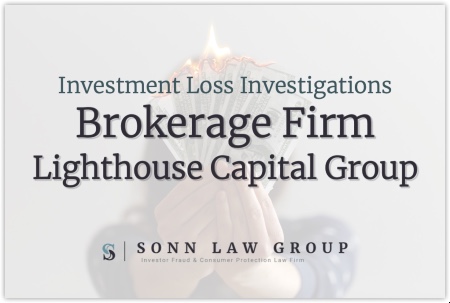 Rena Morris (CRD#: 4867589) and Stephen Holt (CRD#: 5900842), Financial Advisors for Lighthouse Capital Group in Pasadena, California, are alleged to have made investment recommendations that led to a $1M FINRA arbitration claim filed against their firm.
Both Morris and Holt were previously employed by Sandlapper Securities, a brokerage firm that was recently expelled by FINRA after they found that Sandlapper and its principals engaged in fraud.
Frank was named in a FINRA arbitration action along with his employer, in which Steeler Capital, LLC, asserted suitability and misrepresentation claims against both parties. According to Frank's BrokerCheck profile, Ascendant and Frank deny the allegations and plan to vigorously defend against them.
According to the allegations, Morris, Holt, JRW Investments, and Lighthouse Capital Group engaged with a customer ("Customer A") in 2015, who had recently sold personal real estate in order to facilitate a 1031 exchange. A 1031 Exchange transaction is governed by IRS Code 1031. It allows a taxpayer to exchange one investment property for another while deferring the tax consequences of the sale. There are specific criteria the taxpayer must meet to be eligible for the exchange.
Morris, Holt, JRW Investments, and Lighthouse Capital Group allegedly held themselves out as experts in the pooled real estate securities structured as a Delaware Statutory Trust ("DST"), vehicles that are often used to accomplish a 1031 Exchange. The DST owns underlying real estate, which is professionally managed by the sponsor of the DST.
Morris, Holt, JRW Investments, and Lighthouse Capital Group purportedly told Customer A that they would recommend appropriate DSTs after performing an extensive due diligence process, which they flaunted as being top-of-the-line. According to JRW Investments's website: 
At JRW, we are convinced that exceptional due diligence is key to successfully protecting and growing our clients' wealth. Only investments that meet or exceed our highest due diligence standards earn our recommendation. Over the past 15 years, we have reviewed investment offerings whose aggregate value exceeds $20 billion. Less than 10% of those offerings ultimately met our standards for recommendation.
Lighthouse Capital, Morris, and Holt ultimately recommended that Customer A invest a total of $966,720 of retirement savings in a DST issued by Sandlapper CPCM Apartments DST. The sponsor and trustee of the Sandlapper CPCM Apartments DST is Sandlapper Capital Investments, LLC, an affiliate of Sandlapper Securities. The CEO of both firms is Trevor Gordon.
Morris and Holt allegedly told Customer A that they conducted due diligence and the investment was "safe and secure", and that Sandlapper and its CEO, Mr. Gordon, were reputable sponsors that would effectively represent their interests in the management of the property.
Customer A alleged that neither Lighthouse Capital, JRW Investments, Morris, nor Holt conducted any due diligence regarding the investment or Sandlapper. Otherwise, they would have discovered that Sandlapper and Mr. Gordon have an extensive history of FINRA disclosures, eventually leading to both of them being permanently barred from the securities industry in November 2018 for "willfully defrauding investors." 
Additionally, Mr. Gordon and Sandlapper had no meaningful experience in structuring or managing DST investments and allowed the underlying property owned by the DST to fall into disrepair and eventually foreclosure. The clients have lost almost all of their investment after Holt and Morris failed to take any remedial steps to protect the investment. 
Contact Us Today
The Sonn Law Group is currently investigating allegations that brokers made unsuitable recommendations. We represent investors in claims against negligent brokers and brokerage firms. If you or your loved one experienced investment losses, we are here to help. For a free consultation, please call us now at 866-827-3202 or complete our contact form.