Touted as a Safe and Reliable Investment Strategy, UBS YES Exposed Investors to Major Risks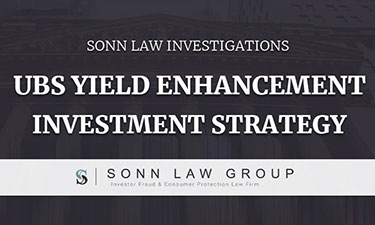 The UBS Yield Enhancement Strategy or YES Strategy was marketed to many high net worth investors across the United States as a safe, low-risk way to increase their investment returns.
This complicated investment strategy — which was not always well understood by investors — performed poorly in volatile market conditions of late 2018.
Sonn Law Group has a great deal of experience in representing investors who have sustained losses due to the negligence or misconduct of their broker and/or brokerage firm, including cases involving complex options strategies. We will aggressively pursue claims to recover your Yield Enhancement Strategy or other investment losses.
If you are looking for an investment fraud attorney to review your rights and options, the investment fraud lawyers at Sonn Law Group represent individual and institutional investors who have lost money as a result of unsuitable investment advice, negligent advice, investment fraud or stockbroker misconduct. Our attorneys have helped to recover more than $250 million in assets lost to investment fraud, securities fraud, Ponzi schemes, and stockbroker misconduct. To set up a free, no obligation review of your case, please call us now at 844-689-5754 or contact us online.
Investors who suffered losses may be eligible to recover through a UBS YES strategy lawsuit.
Did your broker recommend UBS Yield Enhancement Strategy?
This risky product is unsuitable for most investors. If your broker/advisor recommended this investment we may be able to help you recover your losses. Call us now at 844-689-5754 or complete the form below.
What You Need to Know About UBS Yield Enhancement Strategy (YES) Losses
Fundamentally, the UBS YES Strategy was sold to investors as a way to safely produce additional income. However, in the fourth quarter of 2018, many YES Strategy investors suffered significant losses. Specifically, some UBS Financial Services representatives who are alleged to have prepared and recommended this strategy to clients include:
In UBS YES Strategy lawsuits, investors have raised claims alleging unsuitable investment recommendations and material misrepresentations. If you invested money under the UBS Yield Enhancement Strategy, and you lost more money than you ever thought was possible, you may be able to recoup losses.
Recent News & Investigations Involving UBS