Investors should seek damages after Infinity Q Capital Management, LLC brokers recommended investments that were unsuitable.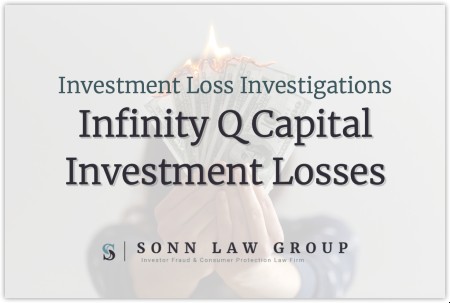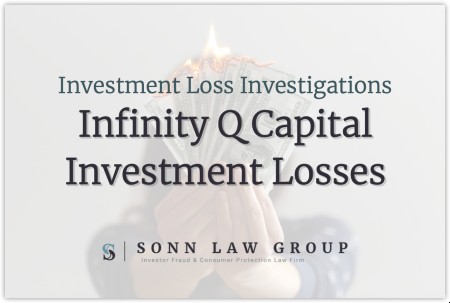 Infinity Q Capital Management, LLC ("Infinity Q") is a New York-based investment firm backed by private equity billionaire David Bonderman. Infinity Q announced that it is liquidating its hedge funds in the wake of fallout from a U.S. regulatory probe into its valuation practice. 
In January, Infinity Q reported that it managed over $3 billion in assets. However, the SEC uncovered proof that Chief Investment Officer, James Velissaris, made potentially unreasonable adjustments to a pricing model used to value fund investments.
After unwinding the mutual fund Infinity Q Diversified Alpha Fund, the fund reported that its cash value was approximately $1.25 billion on March 25th. Less than a month earlier, a regulatory filing indicated that the fund had a net asset value of approximately $1.7 billion. Sean Hecker, attorney for Velissaris, indicated that the change in value reflected the forced liquidation of the mutual fund, not that his client had misused the pricing tool. 
The valuation issues also affected the company's main hedge fund, Infinity Q Volatility Alpha Fund LP, which is now being liquidated. That fund's investors reportedly included the State Teachers Retirement System of Ohio and the Texas Municipal Retirement System. 
Rosen Law Firm, based in New York, has filed an investor class-action lawsuit alleging that Infinity Q's mutual fund trustees made false or misleading statements about the value of the fund to its investors. 
If your broker recommended you purchase investments in an Infinity Q mutual fund, you may be entitled to recover losses from the brokerage firm that sold you the investments. 
Contact Sonn Law to Discuss Recovery Options
The Sonn Law Group is currently investigating allegations that brokers recommended investments in Infinity Q Capital Management, LLC. We represent investors in claims against negligent brokers and brokerage firms. If you or your loved one experienced investment losses, we are here to help. For a free consultation, please call us now at 866-827-3202 or complete our contact form.