COVID-19 Causes High Risks Associated with CLOs
Sonn Law Group is representing investors who have suffered losses from collateralized loan obligations (CLOs) after the outbreak of the coronavirus pandemic. If you or a family member has suffered losses investing, we want to discuss your case. Please contact us today for a free review of your case.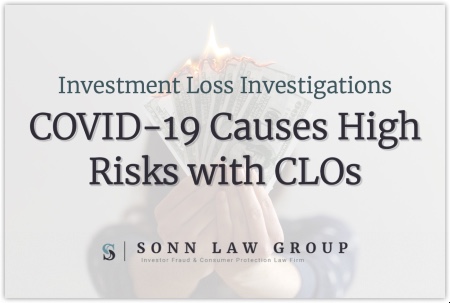 The COVID-19 pandemic is causing collateralized loan obligations to lose value. Sonn Law Group is representing individuals who have suffered losses from collateralized loan obligations (CLOs) after the outbreak of the novel coronavirus (COVID-19).
CLOs have become popular investments in recent years, expanding from $275 billion in 2013 to more than $600 billion in 2018. Despite their popularity, CLOs pose significant risks to investors.
A collateralized loan obligation is a security that is backed by a pool of debt. With a CLO, the investor receives the debt payments from the collection loans, while also taking on the risk should any of the loans default. CLOs are only as reliable as the underlying debt. And in many cases, CLOs are backed by relatively low-rated, risky corporate loans. 
Before investing in a CLO, investors should carefully consider the risks and assess their personal financial situation. CLOs are inherently risky investments, this risk is only exacerbated by market volatility, such as that taking place in recent weeks.
Two Wells Fargo and Nomura Holdings analysts have stated that over 10% of U.S. CLOs are at risk of being unable to make cash payments to those holding their most high-risk portions. Additionally, Reuters has reported the possibility that investment firms may add COVID-19 as one of the risks that CLO investors might be taking on when investing in the product.
Contact Us Today
If you have suffered losses caused by your financial advisor's unsuitable investment recommendations, you may have options for recovery. To discuss your case with a Sonn Law Group attorney, call us anytime at 877-682-6989 or contact us online using our secure web form.