FMSbonds clients who were advised to purchase Frontier Communications bonds may be able to recovery damages through a FINRA arbitration claim.
Sonn Law Group is investigating whether FMSbonds in Boca Raton, FL made unsuitable investment recommendations in Frontier Communications bonds. FMSbonds is regulated by FINRA, and under FINRA's rules, they have an obligation to make suitable investment recommendations. Frontier Communications bonds may be an unsuitable investment for many, especially retirees. If you've suffered losses investing, we want to speak with you. Contact us for a free review of your case.
Frontier Communications Corp. Recently Filed for Chapter 11 Bankruptcy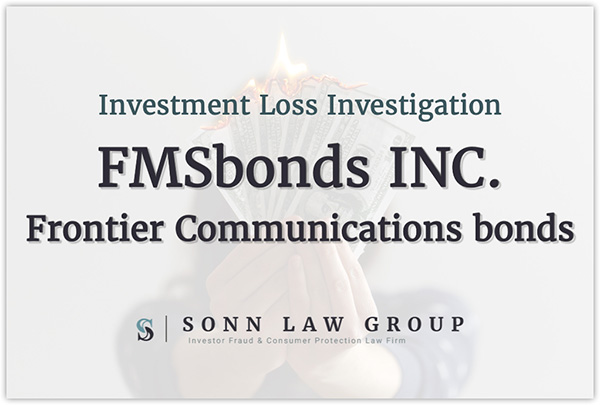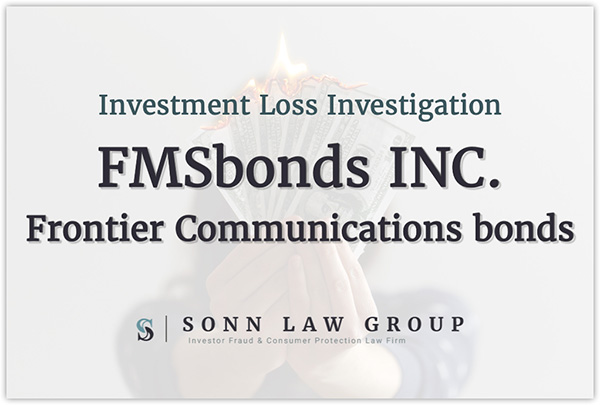 In early March Frontier Communications Corp. announced that it would not issue bond payments due on March 15th. The company was at the time preparing to file for bankruptcy, a move that would allow it to reduce debt and cede control of the company to it's primary creditors.
On Tuesday April 15th Frontier Communications filed chapter 11 bankruptcy as they set out to restructure $17.5 billion debt on its balance sheet
FMSbonds Has Been Sanctioned by FINRA on 11 Occasions
FMSbonds, INC (aka "First Miami Securities) is a brokerage firm that sold Frontier Communications bonds to its customers. According to the Firm's profile on BrokerCheck, it has been subject to 11 regulatory events.
Of note, back in 2017 FMSbonds was censured by FINRA and fined $210,000. The specific allegations were:
Without admitting or denying the findings, the [FMSBonds Inc.] consented To the sanctions and to the entry of findings that it effected 170 customer transactions in a municipal security in an amount lower than the minimum denomination of the issue which were were not subject to an exception under the rule. The findings stated that [FMSBonds Inc.] failed to disclose all material facts concerning 51 municipal securities transactions at or prior to the time of trade.

Specifically, the firm failed to inform its customer that the municipal securities transaction was in an amount below the minimum denomination of the issue, or that The municipal securities contained a resale restriction would could affect the liquidity of the customer's position.
FINRA Rule 2111 Requires that Brokers Make Suitable Investment Recommendations
FINRA rule 2111 requires that a registered investment advisors (RIAs) and broker-dealers must have a reasonable belief that they are only recommending suitable investments to their clients. This regulation is important because not all investment opportunities are appropriate for all investors.
In this case, it is possible that FMSBonds made unsuitable investment recommendations in Frontier Communications bonds, and this investment was potentially inappropriate for risk averse investors, including retirees, and that the Firm did not properly convey the risks associated with this investment.
Contact Sonn Law Group for a Free Case Review
If you are a FMSbonds Inc (First Miami Securities) customer who was sold Frontier Communications bonds, we want to hear from you, as you may have a valid claim for compensation. Call us anytime at 305.912.3000 or complete the short form below.
Wondering whether FMSbonds made unsuitable recommendations?
Contact Sonn Law to discuss your situation with a qualified attorney.