After a merge, Franklin Square BDC Investments put investors at risk with alternative investments that may have caused them significant losses
Sonn Law Group is representing investors who have suffered losses investing in Franklin Square BDC Investments. If you or a family member has suffered losses investing, we want to discuss your case. Please contact us today for a free review of your case.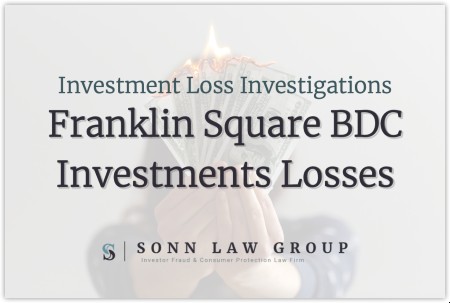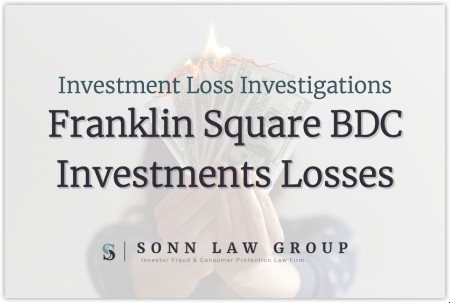 Franklin Square is a business development company (BDC) designed to provide a high level of current income, primarily investing in floating-rate, senior secured loans of middle-market private U.S. companies. According to its website, the company started as Franklin Square capital in 2007 with a goal of providing investors access to "alternative sources of income and growth historically available only to large institutions and the wealthiest individuals. 
In December 2019, FS Investment Corp. II, FS Investment Corp. III, FS Investment Corp. IV and Corporate Capital Trust II merged to form the second-largest BDC, FS KKR Capital Corp. II (FSK II). 
"As we explained in June when we announced our intention to merge these BDCs, we believe the scale, diversification, operating efficiencies and capital structure flexibility of the combined entity will drive shareholder value," said Michael Forman, Chairman, and CEO of FSK II. "The mergers also represent a major milestone in our plan to list FSK II in 2020."
In June 2020, FSKR effected a 4 to 1 reverse split of its shares of common stock. As a result, every four shares of FSKR common stock issued and outstanding were automatically combined into one share of FSKR common stock, and the number of outstanding shares was reduced from approximately 691.2 million to approximately 172.9 million.
As adjusted to give effect to the reverse stock split, FSKR's net asset value per share as of March 31, 2020, would have been $24.68, instead of $6.17 per share. On June 19, 2020, FSKR shares were listed on the New York Stock Exchange. 
Mackenzie Capital Partners LP initially made an unsolicited offer to purchase shares of FSKR for $4.10/share. Two days later, the offer was amended and lowered to only $1.50/share. 
Inexperienced and unsuspecting investors often do not appreciate all of the risks associated with alternative investments like FSKR. These investments earn high commissions for brokers but can cause investors to suffer significant losses. If your broker failed to advise you of the risks associated with investments like FSKR, you may be able to recover.
Contact Sonn Law to Discuss Recovery Options
If you suffered losses investing in Franklin Square BDC Investments, please call us now at 866-827-3202 or complete our contact form.