ERF Wireless, Inc investors should seek claims that they were sold risky investments from brokers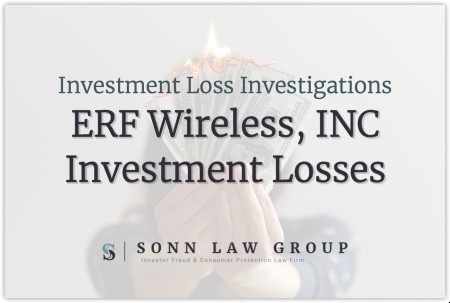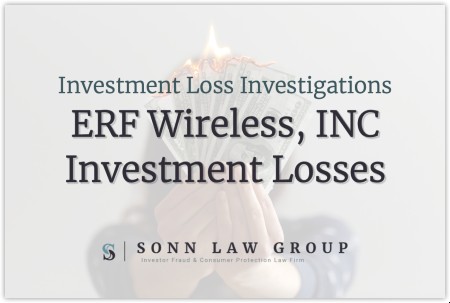 ERF Wireless, Inc. (ERFB) is a fully reporting corporation with its headquarters in League City, Texas. ERFB is a "Critical Infrastructure Communications Service Company," operating primarily in the enterprise vertical market sector of rural broadband in North America. The company provides high-capacity, secure wireless access and other products and services in rural and suburban areas.
Sonn Law is investigating claims that brokers recommended unsuitable investments in ERF Wireless, Inc., to elderly retirees and other conservative investors. Before recommending investments to clients, brokers are required to perform due diligence to verify that the investments are suitable. A failure to do so can result in damages for the investor that suffered losses.
Investments in ERF Wireless pose a high level of risk to investors and should not be recommended to investors without considerable income and a high-risk tolerance. If you suffered losses investing in securities such as ERF Wireless, Inc., contact Sonn Law today.
Contact Sonn Law to Discuss Recovery Options
The Sonn Law Group is currently investigating allegations that brokers recommended investments in ERF Wireless, Inc. We represent investors in claims against negligent brokers and brokerage firms. If you or your loved one experienced investment losses, we are here to help. For a free consultation, please call us now at 866-827-3202 or complete our contact form.