EquiAlt is the subject of a temporary restraining order and asset freeze in connection with an alleged fraudulent unregistered securities offering.
UPDATE (2/28/2020): EquiAlt LLC Investors File Class Action Lawsuit Over Alleged $170M Scheme
The Sonn Law Group is investigating allegations that EquiAlt, LLC defrauded clients in a $170M Ponzi scheme. We have already heard from investors who have suffered losses because their financial advisor recommended investing in EquiAlt. We have discovered that many of the sales of EquiAlt originated in Nevada, Arizona and California. If you were advised to invest in EquiAlt, LLC, we want to discuss your case and help you recover. For a free review of your case, please contact us using the form below, or call us anytime at 844-689-5754.
Losses in EquiAlt? Let's discuss your options.
An Overview of EquiAlt, LLC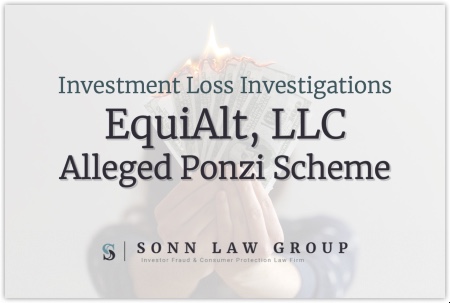 According to its website, EquiAlt, LCC is a Florida-based "investment firm that specializes in alternative assets and private equity."
The website states, "[w]e create smart partnerships with investors and borrowers by playing a valuable role in the growth of businesses and communities around the country through proven strategies and management. Our vision enables investors to participate in new developments while supporting effective long-term investment strategies."
The company purportedly focused on acquiring distressed houses from tax-deed sales at county auctions when the homeowners were at least two years behind on property taxes. The Tampa Bay Times profiled EquiAlt and its business model in 2015. At the time, Brian Davison said that he was trying to reinvent himself after filing bankruptcy in the wake of the financial crisis of 2008. Properties purchased in tax-deed sales are sold "as is," which can refer to more than just the physical condition of the home, which may be in disrepair. An "as is" home may also come burdened with unsatisfied tax liens.
EquiAlt ultimately purchased 260 properties, but made very little money from the actual "flipping" process. In a recent article that painted a much less rosy picture of EquiAlt than its 2015 article, the Tampa Bay Times reported that as of November 2018, EquiAlt had $6.8 million in the bank and owned properties that it valued at $145 million. The newspaper cited regulators who said that EquiAlt earned only $4.4 million from rent and property sales. Compare that to the fact that EquiAlt owes $167.3 million in principal and interest to investors.
EquiAlt a Ponzi Scheme? SEC Announces Retraining Order and Asset Freeze
On February 18, 2020, the SEC announced an emergency enforcement action and a temporary restraining order and asset freeze against Florida-based private real estate firm EquiAlt LLC, its CEO Brian Davison, and its Managing Director Barry Rybicki, in connection with an alleged fraudulent unregistered securities offering that raised more than $170 million from at least 1,100 investors, a number of whom invested their retirement funds.
According to the complaint, EquiAlt, Brian Davison, Barry Rybicki, and the entities they control, fraudulently raised millions of dollars by making material misrepresentations to investors about EquiAlt's investment strategy, the financial condition of the investments, and the uses of investor proceeds.
The defendants allegedly told investors they would pool investor funds and use approximately 90% of the money to purchase under-valued real estate, rent or flip the properties, and pay investors 8-10% annual interest generated from the real estate investments. 
In reality, the complaint alleges, a large portion of investor money went to support Davison's and Rybicki's lavish personal spending, and less than 50% of the funds raised were used to invest in properties. In addition, money from one investment fund controlled by EquiAlt was allegedly used to make Ponzi-like payments to investors in another fund.
The SEC alleged that EquiAlt, "used in-house employees and unlicensed external sales agents to solicit investments from the general public through cold calling campaigns, social media, websites, and in-person meetings." EquiAlt allegedly concealed millions of dollars in commission payments to these intermediaries.
According to the complaint, many EquiAlt investors were elderly and financially unsophisticated retirees who were sold three or four-year term fixed rate debentures which purportedly provided a fixed annual return.
EquiAlt also allegedly sold its investments in part through numerous unregistered sales agents, to whom it paid undisclosed commission payments, according to the complaint. The SEC alleged that the unlicensed agents solicited investors, provided them with offering materials, provided advice on the merits of the investment, and received transaction-based compensation. It is a violation of federal securities laws to allow a person who is not registered with FINRA to "effect a transaction in securities" or "attempt to induce the purchase or sale of, any securities."
On February 14, 2020, a federal judge granted the SEC's request for emergency relief, including a temporary restraining order, an asset freeze, an order against destroying documents, and an accounting against EquiAlt, Davison, Rybicki, and companies the SEC charged as "relief defendants." The court also granted the SEC's request to have a receiver appointed over the corporate defendants and relief defendants. 
Eric Bustillo, director of the SEC's Miami Regional Office, stated, "We allege that Davison and Rybicki made 'too good to be true' promises about nearly every material aspect of EquiAlt's business to induce retail investors, including elderly individuals, to invest with them. The SEC's emergency action seeks to prevent further harm to these retail investors and locate and preserve as many assets as possible."
The complaint charges EquiAlt, Davison, and Rybicki with violating the anti-fraud provisions of the federal securities laws, Section 17(a) of the Securities Act of 1933 ("Securities Act") and Section 10b-5 of the Securities Exchange Act of 1934 ("Exchange Act") and Rule 10b-5 thereunder; the securities registration laws, Sections 5(a) and 5(c) of the Securities Act; and with aiding and abetting the broker-dealer registration laws, Section 15(a)(1) of the Exchange Act. The SEC seeks disgorgement of allegedly ill-gotten gains, and financial penalties against the defendants.
Investor in EquiAlt? Contact Sonn Law Group Today to Discuss Your Options
The Sonn Law Group is currently investigating allegations that EquiAlt, LLC committed fraud. We represent investors in claims against negligent brokers and brokerage firms. If you or your loved one experienced investment losses, we are here to help. For a free consultation, please call us now at 844-689-5754 or complete our contact form below.