Energy funds suffered heavily in the market after the Coronavirus outbreak.
The Sonn Law Group is investigating allegations that brokers unsuitably recommended investments in Colony Credit Real Estate Inc. If you or a family member has suffered losses investing, we want to discuss your case. Please contact us today for a free review of your case.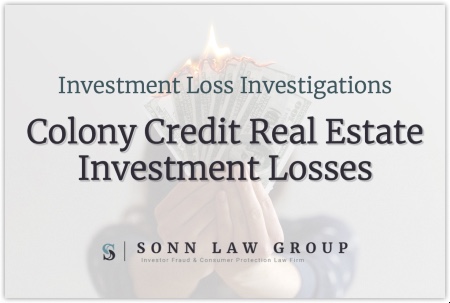 In January 2017, Northstar Real Estate Income Trust ("Northstar REIT") merged into Colony Northstar Credit Real Estate, Inc., who then changed its name to Colony Credit Real Estate, Inc. ("CCRE").
According to its website, CCRE is a commercial real estate credit REIT that focuses on originating, acquiring, financing, and managing a diversified portfolio of commercial real estate debt and net lease real estate investments, predominantly in the United States. 
On September 21, 2019, CCRE traded at $23 per share. On March 20, 2020, CCRE was trading at only $2.81 per share. As of April 14, 2020, the share price was $4.61.
The Sonn Law Group is investigating allegations that brokers recommended these investments to their clients without properly informing them of the risks associated. Additionally, the brokers reportedly earned exceptionally high commission for these recommendations. 
Financial advisors are required to make suitable investment recommendations, accounting for your age, income, net worth, investment experience, and investment objectives.  Diversification is the key to reducing risk. As such, over-concentrated exposure to any sector or investment but particularly volatile industries like oil and gas, can be unsuitable for many investors.
Pursuant to FINRA Rules, member firms are responsible for supervising a broker's activities during the time the broker is registered with the firm. Therefore, brokerage firms across the country may be liable for investment or other losses suffered by its customers.
Contact Sonn Law to Discuss Recovery Options
If you suffered losses investing in Colony Credit Real Estate, Inc., we are here to help. For a free consultation, please call us now at 866-827-3202 or complete our contact form.