Information About Charles Schwab Complaints & Investor Information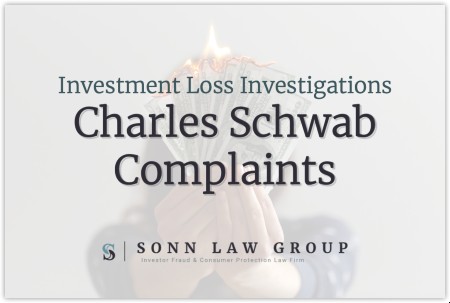 Are you currently, or were you recently, a customer of Charles Schwab & CO, inc (CRD#: 5393)?
If so, you need to be aware of the full history of investor FINRA sanctions and complaints against Charles Schwab.
Currently, the experienced securities fraud attorneys at Sonn Law Group are reviewing claims against Charles Schwab.
If you lost a significant amount of money investing with this brokerage firm, you may be entitled to recover financial compensation for your losses.
Our investor protection team is interested in speaking to you about your Charles Schwab complaint.
Charles Schwab Complaint Topics Covered Here
Can I Sue My Charles Schwab Financial Advisor?


The answer is: Yes, you can sue your Charles Schwab financial advisor. You can file an arbitration claim to seek financial compensation when an advisor – or the brokerage firm they work for – fails to abide by FINRA's rules and regulations and you suffer investment losses as a result.

Investment losses? Let's talk.
844-689-5754

Or, contact us online.
Charles Schwab Investor Complaints and FINRA Sanctions
Unsuitable Investment Recommendations
In October of 2015, a FINRA arbitration panel based in Detroit, MI ruled in favor of an investor in a claim involving unsuitable investments.
Specifically, the investor alleged that Charles Schwab violated FINRA Rule 2111 (Suitability) in the course of allowing certain common stock purchases in the client's account.
The arbitration panel agreed that Charles Schwab had violated industry rules, ruling in favor of the investor and awarding $159,932 in financial relief.
Failure to Meet SEC Capital Requirements
Under federal securities law, registered brokerage firms are required to meet certain capital requirements.
These types of capital regulations are critically important, as they ensure that a brokerage firm will always have an adequate amount of liquid capital on hand to serve investors.
In the financial crisis of 2008, certain firms' failure to keep capital on hand caused tremendous losses for some investors.
Unfortunately, Charles Schwab has not always complied with SEC capital requirements. In August of 2015, SEC regulators found a three-day period in which the brokerage firm transferred away nearly $1 billion in capital to its parent company, becoming severely deficient in its reserves.
This type of conduct puts investors at an unacceptable level of risk. Worse yet, SEC regulators found that Charles Schwab lacked the proper supervisory system to monitor its transfers and overall capital position. As a result of the findings, the brokerage firm was publicly censured and fined $2,000,000.
Broker Negligence: Mutual Funds
In May of 2014, a broker negligence claim was brought against Charles Schwab by one of its customers. The client, a nonprofit organization, alleged that the firm had breached its fiduciary duty, leading to substantial investment losses.
The investor asserted several different specific causes of action, including:
Failure to adequately safeguard client assets;
Failure to properly supervise individual representatives;
Breach of contract;
Broker negligence.
The underlying issue in the claim involved several mutual fund transactions.
Upon reviewing the facts of the case, a FINRA arbitration panel in Washington, DC found that Charles Schwab was indeed liable for a significant portion of the customer's investment losses. In all, the panel awarded the investor $750,000 in financial compensation.
Unlawful Use of FINRA Arbitration Waivers
In the modern world of investing, most brokerage firms require their clients to sign detailed customer agreement. Within your customer agreement, you are likely to find a predispute arbitration clause.
The purpose of this type of clause is rather simple: In the event of a dispute, your claim will be settled through securities arbitration.
While mandatory arbitration provisions are almost always enforceable in the securities industry, there are limits on the types of terms and conditions that a brokerage firm can include within the contract.
In April of 2014, FINRA investigators determined that Charles Schwab was using unlawful terms within its standard customer agreements. Specifically, Charles Schwab was requiring its clients to sign an agreement that contained a predispute arbitration clause that prevented that customers from participating in any sort of future class action against the firm.
Additionally, the clause included a waiver that prevented FINRA arbitrators from consolidating the securities claims of multiple parties. This is an over-restrictive and unenforceable arbitration clause; it violates securities industry rules. As a result of the misconduct, FINRA censured the firm and issued a fine of $500,000.
Misleading Investors: Inaccurate Statements and Omissions of Material Information
In January of 2011, the Financial Industry Regulatory Authority (FINRA) announced that it was ordering Charles Schwab to pay $17,500,000 in financial restitution to investors that were misled by the firm.
Additionally, the brokerage firm was ordered to pay a $500,000 fine. This is one of the largest financial penalties issued by FINRA.
This enforcement action stemmed from the company's aggressive marketing of a complex financial product called the YieldPlus Bond Fund.
This product was an ultra short-term bond fund that was somewhat risky and not appropriate for all investors. Though, Charles Schwab heavily marketed this fund to almost all of its clients throughout the mid-2000s. Notably, the fund was heavily exposed to mortgage-backed securities.
When the housing crisis hit the United States in 2007-2008, mortgage backed securities (MBS) were crushed. Many people who were deeply invested in MBS and MBS-related products lost a considerable amount of money.
Yet, while the housing crisis raged, Charles Schwab continued to market the YieldPlus Bond Fund in the exact same manner that it had been doing all along. The brokerage firm consistently and materially misled investors, failing to disclose key characteristics about the fund.
Brokerage firms have a professional duty to look out for the best interests of their clients. In this case, Charles Schwab knew or should have known that overall market conditions made the YieldPlus bond fund increasingly risky.
Yet, no action was taken to inform the actual or prospective investors of this product. The company continued to market the fund as being "very low risk, with limited fluctuations". As time went on, these statements were exposed as false.
Contact Our Investment Fraud Lawyers Today
At Sonn Law Group, we are proud to be fierce advocates for investors. If you or a loved one lost money investing with Charles Schwab or has a complaint against Charles Schwab or any of the company's representatives, give us a call at 844-689-5754. Please contact our law firm today to schedule a free review of your case.
From our primary office in Aventura, Florida, and our secondary offices in Miami, Orlando, Houston and Atlanta, we serve investors nationwide.