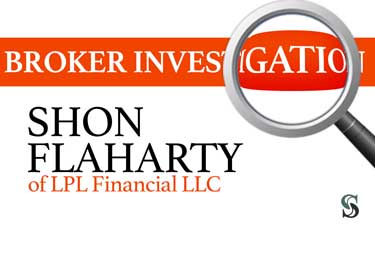 Shon Flaharty (CRD#: 2666498) is a registered broker and investment advisor. Currently, Mr. Flaharty is employed at LPL Financial LLC (CRD#: 6413) in Clearwater, Florida. Early this year, an investor filed a complaint against this broker.
Here, the experienced investment fraud lawyers at the Sonn Law Group provide an overview of the complaint against LPL Financial broker Shon Flaharty. All information contained in this article has been sourced directly from FINRA's BrokerCheck tool.
Investor Complaint: LPL Financial Broker Shon Flaharty
In May of 2018, a corporate customer filed a complaint against Flaharty Asset Management (FAM) and LPL Financial. Broker Shon Flaharty was the official representative for this client's account.
According to FINRA records, the corporate customer alleged that Mr. Flaharty promoted the over-concentration of investments and unsuitable investment recommendations. This complaint was related to a specific exchange traded fund (ETF). Originally the corporate customer was seeking $566,319.57 in financial compensation, though the claim was eventually settled for $350,000.
Mr. Flaharty provided a comment noting that he was not named in the complaint as an individual and that, as an individual, he was not a party to this case. Without admitting or denying any wrongdoing or liability, the claim was settled.
Contact Our FINRA Arbitration Lawyers Now
At Sonn Law Group, we advocate for the interests of investors who have sustained major losses due to securities fraud or broker negligence. To find out more about what we can do for you, please contact our legal team to arrange a free, fully confidential initial consultation.
Disclaimer: This article contains opinions and NOT statements of fact in any way whatsoever. The information here is general information that should not be taken as legal advice. NO attorney-client relationship is established between you and our attorneys by reading this article. This article is attorney advertising and should not be used as a substitute for legal advice from a qualified securities lawyer.