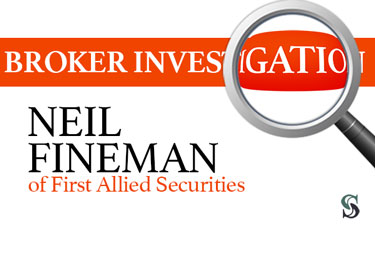 Neil Fineman (CRD#: 2225170) is a previously registered securities broker and investment advisor. Most recently, Mr. Fineman was employed at First Allied Securities in Las Vegas, Nevada (2014-2016).
This individual has also been associated with several other brokerage firms, including Sagepoint Financial, Regal Securities, Brookstreet Securities, and SunAmerica Securities.
In 2017, the Financial Industry Regulatory Authority (FINRA) permanently barred Neil Fineman from the securities industry for unapproved, undisclosed private securities transactions. Here, our investment fraud attorneys review the allegations against this broker.
Investor Complaints: Neil Fineman
The alleged misconduct in this case occurred between early 2011 and early 2016. During the course of that time period, Mr. Fineman was employed at three different firms: Regal Securities, Sagepoint Securities, and finally First Allied Securities.
FINRA investigators allege that this broker executed more than $2.5 million in private securities transactions without providing the required notice, or seeking the required approval, from any of the member firms. This type of conduct (known as selling away) puts innocent investors at serious risk. It prevents the adequate due diligence and oversight needed to protect investors.
In addition, FINRA also contends that Mr. Fineman failed to provide requested documents and that he made misleading statements during the agency's investigation. Without admitting or denying wrongdoing, Neil Fineman consented to the sanctions, including an indefinite bar from associating with any FINRA member firm in any capacity.
Were You a Victim of Broker Negligence?
We can help. At Sonn Law Group, we are strong advocates for investors nationwide. To request a free, fully private analysis of your investment fraud case, please contact our legal team today.
Disclaimer: This article contains opinions and NOT statements of fact in any way whatsoever. The information here is general information that should not be taken as legal advice. NO attorney-client relationship is established between you and our attorneys by reading this article. This article is attorney advertising and should not be used as a substitute for legal advice from a qualified securities lawyer.