Bolton Global Asset Management was charged with failing to disclose material conflicts of interest.
The Sonn Law Group is investigating allegations that Boston Global Asset Management committed misconduct. If you or a family member has suffered losses investing, we want to discuss your case. Please contact us today for a free review of your case.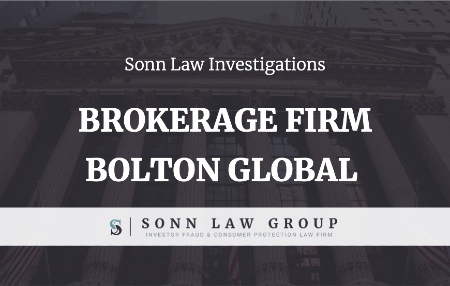 The SEC charged Bolton Global Asset Management, a registered investment adviser and broker-dealer based in Bolton, Massachusetts, with failing to disclose material conflicts of interest related to mutual fund 12b-1 fees and principal trading compensation generated from client investments.
According to the SEC complaint, from August 2014 until at least March 2018, Bolton invested advisory clients in mutual fund share classes that charged 12b-1 fees, and which had an available share class without those fees. The fees were paid to an affiliated broker-dealer under common ownership and control with Bolton, which in turn paid some of the fees to Bolton investment adviser representatives. 
Bolton, however, did not disclose to clients that it purchased or held share classes for its clients that generated 12b-1 fees for Bolton's affiliate when different share classes of the same mutual fund were available that did not carry such fees. 
In addition, the SEC alleges that from November 2014 through at least March 2019, Bolton used the principal trading account of the broker-dealer under common ownership and control to engage in self-dealing transactions with its advisory clients that generated principal trading compensation for the broker-dealer, without providing disclosure sufficient for clients to provide informed consent to the conflicted transactions, and without obtaining required client consent.
The SEC is seeking disgorgement of ill-gotten gains, prejudgment interest, financial penalties, and a permanent injunction against Bolton.
Contact Us Today
The Sonn Law Group is currently investigating allegations of misconduct. We represent investors in claims against negligent brokers and brokerage firms. If you or your loved one experienced investment losses, we are here to help. For a free consultation, please call us now at 866-827-3202 or complete our contact form.