Three individuals were purportedly trying to market and sell the digital asset in an unregistered securities offering.
The Sonn Law Group is investigating allegations that Meta 1 Coin Trust marketed and sold unregistered securities. If you or a family member has suffered losses investing, we want to discuss your case. Please contact us today for a free review of your case.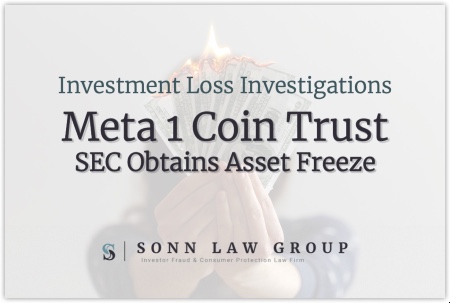 In March 2020, the SEC filed a complaint alleging that two Florida residents, Robert Dunlap and Nicole Bowdler, conspired with former Washington state senator David Schmidt to market and sell a digital asset called the "Meta 1 Coin" in unregistered security offering through Meta 1 Coin Trust. 
The SEC also alleged that the defendants made false and misleading statements to potential and actual investors, including claims that Meta 1 Coin was backed by a $1 million art collection or $2 billion in gold and that an accounting firm was auditing the gold assets. The defendants are also accused of telling investors that Meta 1 Coin was risk-free and would never lose its value. They also promised that the Meta 1 Coin could offer returns up to 224,923%.
Despite raising more than $4.3 million from more than 150 investors,, the Meta 1 Coins were never distributed. Instead, the defendants used the investors' funds to pay their own personal expenses and to funnel proceeds to other individuals. The defendants purchased multiple luxury sports cars with the investors' funds, including a $215,000 Ferrari. 
The SEC charges the defendants with violating anti-fraud and securities registration provisions of the federal securities laws. They are seeking injunctions, disgorgement of allegedly ill-gotten gains with prejudgment interest, and civil penalties against the defendants.
Contact Us Today
The Sonn Law Group is currently investigating allegations that Meta 1 Coin Trust and its affiliates misled investors.  We represent investors in claims against negligent brokers and brokerage firms. If you or your loved one experienced investment losses, we are here to help. For a free consultation, please call us now at 866-827-3202 or complete our contact form.