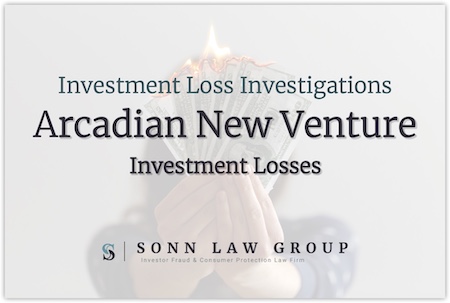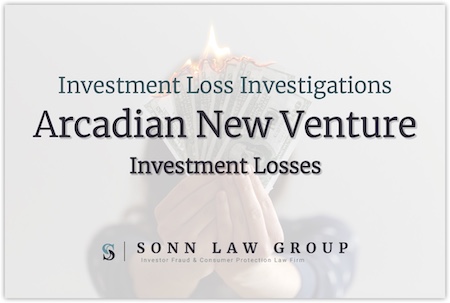 According to its 2019 SEC filing, Arcadian New Venture Fund is a Venture Capital Fund located in California. The fund purportedly raised $21.81M from 50 investors and was created in November of 2017.
Investment fraud attorneys Goodman & Nekvasil, P.A. reported that it is investigating brokerage firms that placed elderly retirees at risk by recommending high-risk investments, such as investments in Arcadian New Venture Fund, LP. The firm has reportedly filed hundreds of cases against brokerage firms accused of selling high-risk investments in Arcadian New Venture Fund and has recovered over $200 million on behalf of the victimized investors.
Before a broker can recommend an investment to a customer, he or she must ensure that the investment is suitable for the client based on the client's investment profile. A failure to do so could entitle you to recover damages if you suffer losses as a result of these unsuitable investments.
---
Contact Us Today
The Sonn Law Group is currently investigating allegations that brokers recommended investments in Arcadian New Venture LP. We represent investors in claims against negligent brokers and brokerage firms. If you or your loved one experienced investment losses, we are here to help. For a free consultation, please call us now at 866-827-3202 or complete our contact form.