American Realty Capital investors seek claims that they were sold risky investments from brokers
Sonn Law Group is representing investors who have suffered losses investing in American Realty Capital. If you or a family member has suffered losses investing, we want to discuss your case. Please contact us today for a free review of your case.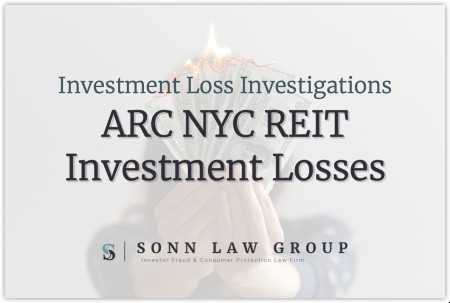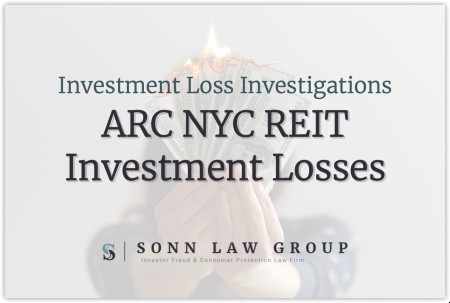 Investors in American Realty Capital New York City REIT ("ARC NYC REIT") could potentially have claims against brokers who sold them these risky, speculative investments. Sonn Law is investigating claims that brokers recommended unsuitable alternative investments like NYC REIT to retirees and other unsuspecting investors.
ARC NYC is a real estate investment trust that owns a portfolio of commercial real estate within the five boroughs of New York. According to its website, ARC NYC REIT is structured to provide its investors with a combination of current income and capital appreciation through strategic investments in high-quality commercial real estate.
ARC NYC REIT was incorporated in December 2013 as a Maryland REIT and is registered with the SEC, thus the REIT was permitted to sell securities to the investing public at large, including unsophisticated investors who bought shares through the initial public offering ("IPO") upon the recommendation of a broker or investment adviser. 
ARC NYC REIT closed its IPO in May 2015 after raising a total of $772 million from investors. The shares were offered at $25 each. Since that time, the price per share has plummeted to below $12. The board of directors decided to suspend distributions, then authorized a reverse stock split. 
On August 18, 2020, ARC NYC shares were listed on the New York Stock Exchange. On its first day of trading, the stock crashed over 40%. 
Non-traded REITs are risky, speculative investments that are not suitable for inexperienced investors. One significant risk associated with non-traded REITs is the high up-front commission. Unfortunately, high commission is one reason why brokers and investment advisers often recommended investments in non-traded REITs. The products are usually highly illiquid, meaning investors will not have access to their money and the investment cannot be freely sold in the market.
Under FINRA Rules, brokers are required to perform adequate due diligence before recommending an investment to a customer. If a broker failed to conduct proper due diligence, he or she may be held liable.
Contact Sonn Law to Discuss Recovery Options
If you suffered losses investing in ARC NYC REIT, we are here to help. For a free consultation, please call us now at 866-827-3202 or complete our contact form.