The claimant is seeking $730K in damages for Stallones's alleged misconduct.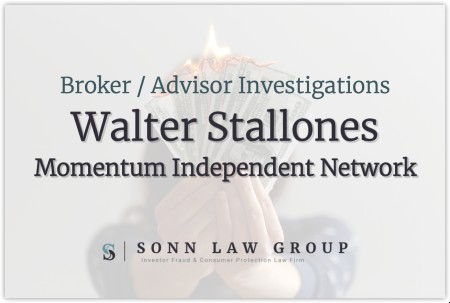 Walter "Leighton" Stallones (CRD: 433344) is currently registered as a broker with Momentum Independent Network, where he has been employed since 2010.
Previously, Stallones was registered as a broker with Southwest Securities, Inc. from 2005 until 2010. From 2001 until 2005, Stallones was registered as a broker with Riverstone Wealth Management. 
Stallones has four disclosures on his BrokerCheck report that occurred within the last 20 years. 
February 2021 Customer Dispute
Status:

Pending

Allegations:

Misrepresentation, unsuitable recommendations.

Damage Amount Requested:

$730,000.00
---
February 2013 Customer Dispute
Status:

Settled

Allegations:

This action arises from a short-term loan made by Pratt Foreclosures, LLC to SSJ Development, LLC in the amount of $820,000 on November 28, 2008. The loan was secured by a first lien security interest in the securities trading accounts of SSJ, Jemal and his family which were managed by Southwest Securities through Leighton Stallones. Respondents claim that the securities were confirmed by Southwest Securities and Mr. Stallones and that assets were frozen in the Jemal accounts. SSJ defaulted on repayment of the loan in March 2010 and demanded payment from Southwest and Stallones but was told that the securities in the account were not enough to cover the obligation. Plaintiff seeks money judgment against SSJ Development and Leighton Stallones based on its failure to repay the loan. Plaintiff asserts causes of action for fraud, negligent misrepresentation, breach of contract and breach of fiduciary duty based on false statements with regard to the Jemal accounts.

Damage Amount Requested:

$1,600,000.00

Settlement Amount:

$765,000.00
---
September 2010 Customer Dispute
Status:

Settled

Allegations: 

Plaintiffs alleged that Southwest Securities through Leighton Stallones, SSJ Gerritsen Beach, SSJ Mill Basis and SSJ Sheepshead Bay provided false financial information to Republic, including fabricated account statements. Republic then negligently conveyed this information to Plaintiffs. Plaintiffs allege that they relied on this false financial information and invested in the SSJ Entities and later, converted their equity interest into a worthless promissory note against Steven Jemal, the controlling owner of the SSJ Entities. In reality, Jemal had little or no assets so Plaintiffs were left with an $8,000,000 judgment against Jemal. Plaintiffs allege fraud, civil conspiracy, aiding and abetting, aiding and abetting violation of Texas Securities Act, negligent and misrepresentation.

Damage Amount Requested:

$6,000,000.00

Settlement Amount:

$3,850,000.00
---
May 2001 Employment Separation After Allegations
Firm Name:

First Union

Termination Type:

Discharged

Allegations:

Failure to adhere to electronic communications rules.

Broker Comment:

Any posts I made in the 1996-2001 period were intended to be helpful & informative, not promotional, in a few very small chat rooms. I have not had any activity of that sort since & I never intend to have any in the future. 
---
Contact Us Today
The Sonn Law Group is currently investigating allegations surrounding Walter Leighton Stallones. We represent investors in claims against negligent brokers and brokerage firms. If you or your loved one experienced investment losses, we are here to help. For a free consultation, please call us now at 866-827-3202 or complete our contact form.