Rahn was terminated from JP Morgan in 2018 based on similar allegations of misconduct.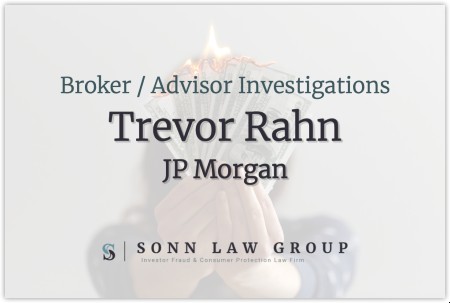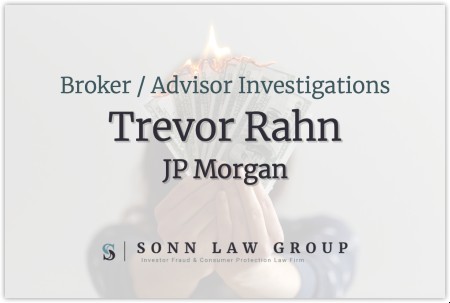 Trevor Rahn (CRD#: 2196155) was registered as a broker with JP Morgan from 2010 until 2018. Previously, Rahn was registered as a broker with Deutsche Bank Securities from 2008 until 2010.
Rahn has nine disclosures on his BrokerCheck report. One customer dispute filed against him was denied.
March 2021 Regulatory Judgment
Status:

Final

Initiated By:

FINRA

Allegations:

Without admitting or denying the findings, Rahn consented to the sanctions and to the entry of findings that he failed to conduct the necessary reasonable diligence to understand the cost implications of a recommended average pricing investment strategy and, as a result, lacked a reasonable basis to recommend the strategy to his customers. The findings stated that Rahn recommended the strategy to the customers in which he executed orders in accounts by breaking them into multiple smaller trades that he entered at different times on the same day. When entering the smaller trades, Rahn often entered a separate commission on each trade that was greater than the amount that would be charged under his member firm's standard commission schedule. Rahn relied on the firm's system to automatically assign commissions in accordance with its commission schedule without taking steps to confirm it actually did so. In connection with his strategy, Rahn exercised time and price discretion on over 7,500 trades without the written authority from any of his customers or written acceptance from his firm. None of the tickets for the trades reflected an exercise of time and price discretion. Instead, Rahn entered all of these trades as held orders, meaning that each order was intended to be promptly placed. The findings also stated that Rahn executed trades in a customer account without her authorization. The findings also included that Rahn caused his firm to create inaccurate records by mismarking solicited trades in customer accounts as unsolicited.

Resolution:

Acceptance, Waiver & Consent (AWC)

Sanctions:

Civil and Administrative Penalty(ies)/Fine(s)

Amount:

$10,000.00

Sanctions:

Suspension

Registration Capacities Affected:

All capacities

Duration:

18 months

Start Date:

4/5/2021

End Date:

10/4/2022
---
June 2019 Customer Dispute
Status:

Settled

Allegations:

Customer alleges that the trading activity increased dramatically and resulted in losses and significant tax obligations. Activity dates January 2014-September 2015. Subsequent correspondence received on 06/12/2019. Customer alleges financial advisor engaged in a pattern of unauthorized trading and margin use in the customer's account in order to generate commissions, and resulting in losses to customer. Activity dates January 2014 – November 2015.

Damage Amount Requested:

$854,410.00

Settlement Amount:

$549,184.00
---
November 2018 Customer Dispute
Status:

Settled

Allegations:

Customer previously alleged that the number of transactions in the account were unauthorized and that claim was settled. Subsequent correspondence received asserting additional demands related to the same account. The overall time period is 03/2014-9/2017.

Damage Amount Requested:

$1,137,915.00

Damages Granted:

$114,000.00
---
September 2018 Employment Separation After Allegations
Firm Name:

JP Morgan Chase Bank, NA

Termination Type:

Discharged

Allegations:

Unacceptable practices by the representative relating to the timing and size of orders entered and resulting transaction charges in a client account and relating to the marking of certain orders for the account as unsolicited.
---
November 2017 Customer Dispute
Status:

Settled

Allegations:

Customer alleges that the number of transactions was unauthorized. Activity dates 08/2017-09/2017.

Damage Amount Requested:

$5,000.00

Settlement Amount:

$64,590.00
---
October 2016 Customer Dispute
Status:

Settled

Allegations:

In October 2015, the administrators of a client's estate requested the transfer and liquidation of positions that were then transferred and sold. Later, the administrators of the estate alleged that they were not made aware of the fees for liquidating the estate account and that the fees were excessive.

Damage Amount Requested:

$5,000.00

Settlement Amount:

$57,847.00
---
July 2014 Judgment / Lien
Judgment/Lien Amount:

$763,424.76

Judgment/Lien Type:

Civil
---
Contact Us Today
The Sonn Law Group is currently investigating allegations surrounding Trevor Rahn. We represent investors in claims against negligent brokers and brokerage firms. If you or your loved one experienced investment losses, we are here to help. For a free consultation, please call us now at 866-827-3202 or complete our contact form.