Timothy Millis allegedly recommended unsuitable investments to several customers between 2015 and 2018.
The Sonn Law Group is investigating allegations that Timothy Millis committed misconduct. If you or a family member has suffered losses investing, we want to discuss your case. Please contact us today for a free review of your case.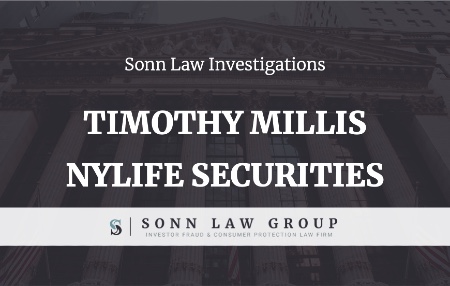 Timothy Millis (CRD#: 706959) consented to the sanctions and to the entry of findings that he recommended unsuitable short-term Class A mutual fund transactions to customers.
The findings stated that although Millis understood that these mutual fund shares are long-term investments, he recommended the purchase and subsequent sale of the mutual fund shares after the customers held them for short periods.
As a result of these short-term trades, the customers were charged approximately $174,725 in upfront sales charges. Half of the customers realized losses totaling approximately $33,391. Millis violated the reasonable-basis suitability obligation by recommending frequent trading in mutual funds without understanding the costs of those transactions. 
The findings also stated that Millis recommended an unsuitable switch from a variable annuity to Class A mutual fund shares to a senior customer that had significant expenses and short-term liquidity needs. Millis recommended that the customer liquidate the variable annuity, which resulted in a surrender charge of $14,866 and then immediately recommended the customer purchase the mutual fund shares, for which the customer was charged $15,340 in upfront sales charges. Millis violated the customer-specific suitability obligation because he did not have a reasonable basis to believe these recommended transactions were suitable for the customer.
Millis was ordered to disgorge $7,500 and suspended for three months.
According to his BrokerCheck report, Millis was also the subject of a customer dispute in 2019. In April 2019, he was named in a complaint stating that NYLife noted that from February 2017 through September 2018, a customer incurred front-end sales charges when proceeds from a variable annuity withdrawal were subsequently transferred to the customer's brokerage account. The Firm also noted that the customer's variable annuity withdrawal was subject to a surrender charge in February 2017. The customer executed a settlement agreement that the Firm provided to him after its review of the transactions. This matter was settled for $50,279.06.
Contact Us Today
The Sonn Law Group is currently investigating allegations of misconduct. We represent investors in claims against negligent brokers and brokerage firms. If you or your loved one experienced investment losses, we are here to help. For a free consultation, please call us now at 866-827-3202 or complete our contact form.