The customer also alleged Proctor of misrepresentation and breach of fiduciary duty.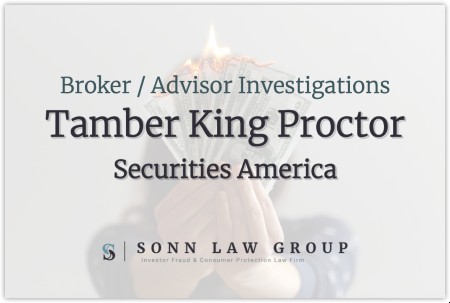 Tamber King Proctor (CRD#: 4316378) was previously registered as a broker with Securities America from May 2017 until February 2019. Previously, Proctor was registered with LPL Financial from August 2011 until May 2017.
Proctor has two other disclosures on his BrokerCheck report.
December 2020 Customer Dispute
Status:

Pending

Allegations:

The claimant alleges that his investments in FS Energy & Power Fund and Northstar Healthcare were unsuitable and that the risks associated with them were not properly disclosed. In connection with such allegations, claimant alleges he suffered losses and asserts causes of action for violation of securities laws, breach of contract and fiduciary duty, negligence, and vicarious liability. Activity period: 12/17/15

Damage Amount Requested:

$50,000.00
---
May 2017 Customer Dispute
Status:

Settled

Allegations:

Investor alleges unauthorized trading from February 6, 2017 to April 25, 2017.

Damage Amount Requested:

$6,010.33

Settlement Amount:

$4,038.27
---
Contact Us Today
The Sonn Law Group is currently investigating allegations surrounding Tamber King Proctor. We represent investors in claims against negligent brokers and brokerage firms. If you or your loved one experienced investment losses, we are here to help. For a free consultation, please call us now at 866-827-3202 or complete our contact form.