The customers are seeking $500k in damages based on the alleged unsuitable investments in non-public REITs.
The Sonn Law Group is investigating allegations that Susan Penney made unsuitable investment recommendations.  If you or a family member has suffered losses investing, we want to discuss your case. Please contact us today for a free review of your case.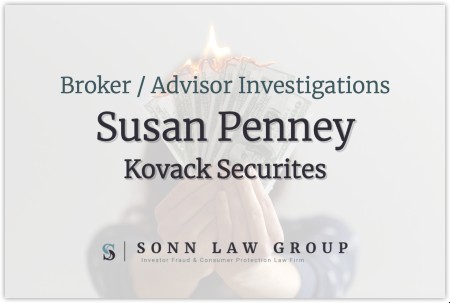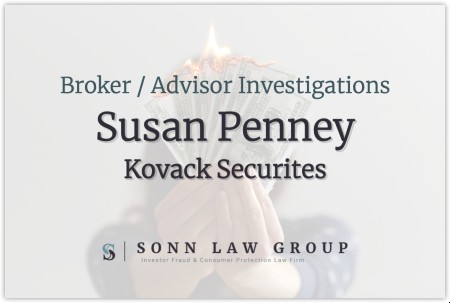 Susan Penney (CRD#: 1238195) is currently a broker with Kovack Securities, where she has been employed since 2012. Previously, she was employed with LPL Financial from 2011 to 2012, and with Wells Fargo from 2003 until 2010.
A retiree in Oklahoma named Penney in a customer dispute, seeking $500,000 in damages for investment losses she sustained while working with Penney. The dispute alleges that Penney and her broker-dealer misled the investor and recommended unsuitable investments when they convinced her to invest a large portion of her portfolio in non-public REITs and other risky investments. She claimed that Kovack Securities failed to properly supervise Penney, among other misconduct allegations.
Penney has two other disclosures on her BrokerCheck report.
---
October 2012 Regulatory Judgment
Initiated By:

FINRA

Allegations:

"FINRA Rule 2010, NASD Rule 2510(B) – Susan Penney exercised discretionary trading authority in customer brokerage accounts without prior written customer authorization and without speaking to the customers on the day the trades were placed. Penney's member firm's policies and procedures prohibited discretionary trading in brokerage accounts of customers, unless for a family member and none of the trades were made for a family member."

Resolution:

Acceptance, Waiver & Consent (AWC)

Sanctions:

Civil and Administrative Penalty(ies)/Fine(s)

Amount:

$5,000.00

Sanctions:

Suspension

Registration Capacities Affected:

Any capacities

Duration:

10 Business Days

Start Date:

11/19/2012

End Date:

12/3/2012

Regulator Statement:

"Without admitting or denying the findings, Penney consented to the described sanctions and to the entry of findings; therefore she is fined $5,000.00 and suspended from association with any FINRA member firm in any capacity for 10 business days. The suspension is in effect from November 18, 2012 through December 3, 2012. Fine paid in full on July 24, 2013."

Broker Comment:

"I have been accused of a failure to have written customer discretionary approval on file, accepted by my prior member firm. There were no client complaints or client harm in any way. This investigation was brought forth due to the nature of termination by former employer Wells Fargo in December 2010. I have been a registered representative since 1984, and have never had a complaint against me. In order to reduce time away from my practice and clients as well as to reduce continuing expenses of litigation, I consented to the described sanctions without admitting or denying the findings."
---
December 2010 Employment Separation After Allegations
Firm Name:

Wells Fargo Advisors, LLC

Termination Type:

Discharged

Allegations:

"Discretionary trading"
---
Contact Us Today
The Sonn Law Group is currently investigating allegations that Susan Penney recommended unsuitable investments. We represent investors in claims against negligent brokers and brokerage firms. If you or your loved one experienced investment losses, we are here to help. For a free consultation, please call us now at 866-827-3202 or complete our contact form.