Melen is also accused of accepting loans from clients without approval from Morgan Stanley.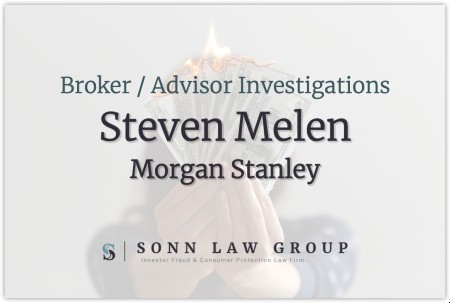 Steven Melen (CRD: 2357251) is registered as a broker and investment adviser with LPL Financial where he has been employed since March 2019. Previously, Melen was registered as a broker and investment adviser with Morgan Stanley where he was employed from 2007 until 2019. 
Melen voluntarily resigned from Morgan Stanely in March 2019 following allegations that Melen was under internal review regarding whether he had "borrowed funds from a client, without disclosing the arrangement to the firm."
Melen has three other disclosures on his BrokerCheck report.
---
April 2021 Regulatory Judgment
Status:

Final

Initiated By:

FINRA

Allegations:

Without admitting or denying the findings, Melen consented to the sanctions and to the entry of findings that he accepted loans from customers totaling $307,000 without providing notice to, or receiving approval from, his member firm. The findings stated that Melen borrowed $150,000 from a friend and elderly brokerage customer and repaid the loan in full. Later, Melen borrowed an additional $110,000 from the customer and repaid the loan with interest. Melen also borrowed $25,000 from a second customer of his, with whom he had a close personal relationship. Melen made partial repayments for this loan and later borrowed an additional $22,000 from the second customer. Melen repaid the additional loan with interest plus the balance due on the first loan. None of the loans were memorialized in writing, but Melen agreed to pay interest on both of the additional loans. Neither customer complained. In addition, Melen falsely attested to the firm that he had not borrowed money from any customer in the past 24 months. The findings also stated that Melen failed to disclose his ownership of a rental property to the firm in writing. Melen received approximately $200,000 in compensation from the property. In addition, Melen failed to identify the rental property on his annual attestations and affirmatively stated to the firm that he did not participate in any OBAs that required disclosure. Melen did disclose the OBA to his current firm.

Resolution:

Acceptance, Waiver & Consent (AWC)

Sanctions:

Civil and Administrative Penalty(ies)/Fine(s)

Amount:

$7,500.00

Sanctions:

Suspension

Registration Capacities Affected:

All Capacities

Duration:

Four months

Start Date:

5/3/2021

End Date:

9/2/2021
---
May 2019 Investigation
Initiated By:

Financial Industry Regulatory Authority

Description of Investigation:

Investigation regarding allegations of loans made to advisor by two customers and advisor's possible non-disclosure of outside business activities. 
---
December 2009 Customer Dispute
Status:

Settled

Allegations:

Customer alleges misrepresentation regarding purchase of the Schwab Yield Plus on 07/18/2006.

Damage Amount Requested:

$75,000.00

Settlement Amount:

$16,066.00
---
Contact Us Today
The Sonn Law Group is currently investigating allegations surrounding Steven Melen. We represent investors in claims against negligent brokers and brokerage firms. If you or your loved one experienced investment losses, we are here to help. For a free consultation, please call us now at 866-827-3202 or complete our contact form.