Sonn Law Group is Investigating Morgan Stanley Broker Shawn Good Who Has Been Accused by the SEC of Running a Ponzi-Like Scheme to Defraud his Investment Clients Out of Millions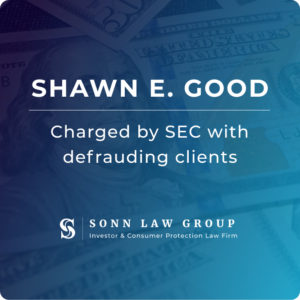 The SEC complaint states that "Beginning in or about December 2012, and continuing through at least February 2022, Good solicited clients to transfer funds to his personal bank account, ostensibly to make low-risk investments in real-estate development projects and supposedly tax-free government bonds. But Good instead use those funds to repay other investor victims and to pay his personal expenses."
Sonn Law Group is interested in hearing from clients of Shawn Good. These allegations – that Good has been running a decade long Ponzi scheme to defraud his clients out of millions of dollars – are deeply troubling. Brokerage firms like Morgan Stanley have a duty to supervise their investment advisors. If they failed to do so in this case, that creates liability, and investors can pursue damages in the form of a FINRA arbitration claim.
Sonn Law Group is a nationally-recognized leader in securites law. We dedicate our practice exclusively to helping defrauded investors recover compensation. If you or a loved one has suffered losses investing with Shawn E. Good we invite you to contact our firm for a free, no-obligation consultation to discus your options.
Think you might be a victim of Shawn E. Good's alleged Ponzi scheme?
Submit the form below to speak with our team about your options.