Wolfrum owned and operated Wolfrum Capital Management.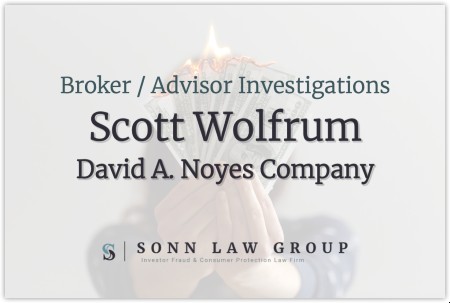 Scott Wolfrum (CRD: 2187550) was previously registered with Huntleigh Securities from 2018 until 2019.
In March 2021, the SEC filed a complaint against Wolfrum alleging that he failed to disclose conflicts of interest when selling investments in the Foundry Mezzanine Opportunity Fund.
Wolfrum allegedly sold over $20 million worth of investments in the fund without disclosing that he had a personal financial stake in the Fund's investments. To settle the allegations, Wolfrum agreed to pay a $75,000 fine, $140,125 in disgorgement fees, and $21,354 in interest. 
The misconduct allegedly occurred while Wolfrum was registered with David A. Noyes & Co., from May 2013 until January 2018.
Wolfram has three customer disputes on his BrokerCheck report, but one was denied.
---
March 2019 Customer Dispute
Status:

Settled

Allegations:

Complainant alleges that the purchase of a private placement was made without complainant's approval. Date of activity was 01/11/2018.

Damage Amount Requested:

$500,000.00

Settlement Amount:

$449,300.00

Broker Comment:

The complainant is a trust account. The trustee of the trust signed and initialed numerous documents requesting the purchase. The settlor of the trust claimed he did not approve of the transaction. Despite the trustee's approval, the private placement agreed to rescind the transaction. The trust redeemed its shares of the private placement in exchange for the settlement amount.
---
February 2013 Customer Dispute
Status:

Settled

Allegations:

Client alleged annuity unstable and concentration of annuities in account. (1/27/12-2/6/13)

Damage Amount Requested:

$21,205.35

Settlement Amount:

$10,000.00
---
Contact Us Today
The Sonn Law Group is currently investigating allegations surrounding Scott Wolfrum. We represent investors in claims against negligent brokers and brokerage firms. If you or your loved one experienced investment losses, we are here to help. For a free consultation, please call us now at 866-827-3202 or complete our contact form.