Rahn was also the subject of a regulatory judgment entered by the State of Washington Securities Division.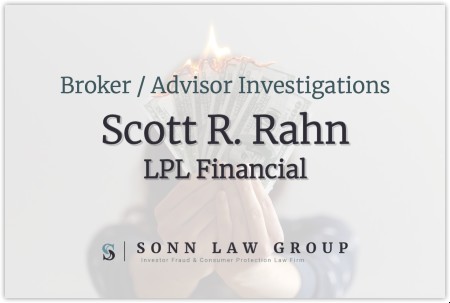 Scott Robert Rahn (CRD#: 1959522) was registered as a broker with LPL Financial Services from 2014 until 2019. Previously, Rahn was registered as a broker with U.S. Bancorp Investments from 2011 until 2014.
Rahn has three disclosures on his BrokerCheck report. 
March 2021 Regulatory Judgment
Initiated By:

State of Washington – Department of Financial Institutions – Securities Division

Allegations:

While a registered representative of LPL Financial, LLC, the adviser recommended that five customers surrender variable annuity contracts and purchase principal protected notes. The state of Washington alleged that the adviser's recommendation that brokerage customers purchase principal protected notes funded with variable annuity liquidations that required the payment of surrender fees, without documented consideration of key features of the products, were unsuitable in violation of RCW 21.20.702 and WAC 460-22B-090(7).

Resolution:

Consent

Sanctions:

The Adviser is required to hire an independent compliance firm to conduct oversight reviews. Over a two year period, the independent compliance firm must conduct quarterly reviews of all client accounts, including an evaluation of all trades in the accounts for suitability and consistency with the Investment Adviser's fiduciary duty. The reviews must be evidenced in writing and held for six years after the heightened supervision period ends.

Broker Comment:

Prior to the transactions, Mr. Rahn made sure the clients were fully aware of the benefits of the variable annuities and the reasons for the change to the principal protected notes. Additionally, at the time of surrender, the transactions were reviewed by LPL Financial. Furthermore, Mr. Rahn is still the financial advisor to the affected clients.
---
November 2020 Investigation
Initiated By:

Brook Kellerman

Description of Investigation:

Unsuitable trades and personal finances.
---
November 2020 Financial Judgment
Status:

Final

Type:

Compromise

Disposition:

Revised repayment terms and schedule.
---
Contact Us Today
The Sonn Law Group is currently investigating allegations surrounding Scott Robert Rahn. We represent investors in claims against negligent brokers and brokerage firms. If you or your loved one experienced investment losses, we are here to help. For a free consultation, please call us now at 866-827-3202 or complete our contact form.