FINRA requested information and documents relating to Raskin's discharge from Merrill Lynch in 2019.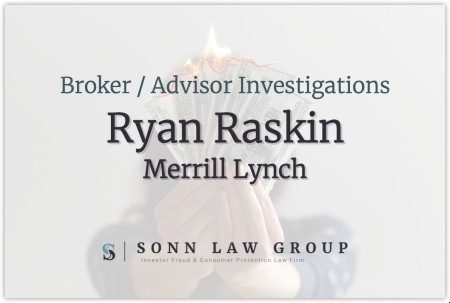 Ryan Raskin (CRD#: 5539610) was registered as a broker with Merrill Lynch in Beverly Hills, CA, from 2016 until 2020. Previously, Raskin was registered as a broker with Morgan Stanley in Woodland Hills, CA, from 2009 until 2016. Raskin was recently barred by FINRA after he failed to cooperate with their investigation into his termination from Merrill Lynch.
Raskin has two disclosures on his BrokerCheck report.
September 2020 Customer Dispute
Status:

Denied

Allegations:

The customer alleges unauthorized trading and churning in January 2018 until January 2020.
---
March 2020 Employment Separation After Allegations
Firm Name:

Merrill Lynch, Pierce, Fenner & Smith Incorporated

Termination Type:

Discharged

Allegations:

Conduct involving business practices inconsistent with Firm standards, including inappropriate investment recommendations. 
---
Contact Us Today
The Sonn Law Group is currently investigating allegations surrounding Ryan Raskin. We represent investors in claims against negligent brokers and brokerage firms. If you or your loved one experienced investment losses, we are here to help. For a free consultation, please call us now at 866-827-3202 or complete our contact form.