Rusty Tweed was barred by FINRA and fined $50,000 after reports of misrepresentation.
The Sonn Law Group is investigating allegations that Rusty Tweed committed misconduct. If you or a family member has suffered losses investing, we want to discuss your case. Please contact us today for a free review of your case.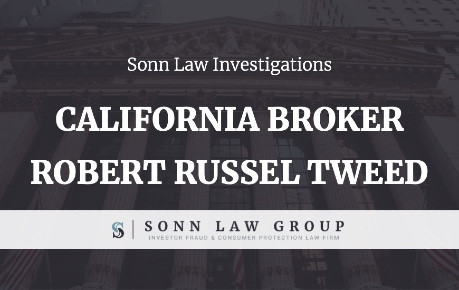 Robert Russel Tweed ("Rusty Tweed")(CRD#:2339324) is currently involved in several customer disputes according to his BrokerCheck report. Most recently in August of 2018, a client filed a dispute against Tweed for alleged misrepresentation and recommending unsuitable investments.
FINRA's Hearing Panel determined that Tweed negligently misrepresented and failed to disclose material facts in connection with the sale of interests in Athenian Fund, L.P. ("Athenian"), a private investment fund that he controlled, and that he engaged in a course of conduct that operated as fraud or deceit on Athenian's investors. Tweed was barred from associating with any FINRA member firm and fined $50,000. 
Tweed appealed the decision of the Hearing Panel, but their decision was affirmed. The appeals committee laid out multiple reasons that they agreed with the Hearing Panel's determination of guilt. For example, the Hearing Panel found that Tweed negligently misrepresented or failed to disclose to investors all of the fees and expenses associated with an investment in Athenian.
Through the Athenian PPM, Tweed disclosed Athenian's three-and-a-half percent management fee and performance allocation. The Hearing Panel found that Athenian's investors also were subject to other fees and expenses imposed by Quant Pool and QAMF, and that Tweed failed to disclose these additional fees and expenses to investors. The appeals committee stated that they agreed with this finding.
They also stated,
We also agree with the Hearing Panel that Tweed acted at least negligently in not disclosing these fees and expenses. Tweed testified that he did not intend for Athenian's investors to be subject to any fees and expenses beyond those disclosed in the Athenian PPM, but he conceded that "in retrospect . . . the coordination of how the fees were written between the master fund and . . . feeder fund. . . . [T]here's definitely confusion on how those fees are supposed to be divvied up."
In concluding their findings, the appeals committee stated that Tweed poses a clear risk of future misconduct if reinstated by FINRA, thus a bar in all capacities is necessary.
Contact Us Today
The Sonn Law Group is currently investigating allegations that brokers recommended unsuitable investments. We represent investors in claims against negligent brokers and brokerage firms. If you or your loved one experienced investment losses, we are here to help. For a free consultation, please call us now at 866-827-3202 or complete our contact form.