Platt is a registered investment adviser with Hancock Whitney and has been since 2013.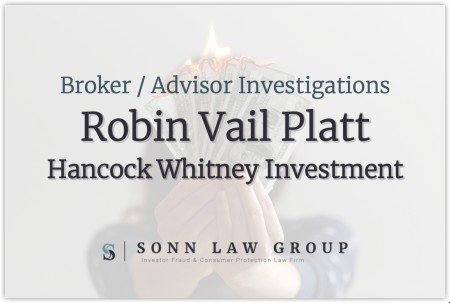 Robin Vail Platt (CRD:2584058) is registered as an investment adviser and broker with Hancock Whitney Investment Services in Mandeville, LA, where she has been employed since 2013.
According to a press release, Platt was named in a recently filed customer dispute alleging that she made unsuitable recommendations to purchase a Northstar Financial Services (Bermuda) Investment.
The dispute alleges that the claimant, a longtime client of Hancock Whitney, had mostly invested in bank products and kept his money in checking/savings accounts. In 2016, Platt allegedly recommended the Bermuda-based investment, which eventually made up the majority of the retiree's portfolio. 
Platt has three disclosures on her BrokerCheck report. One customer dispute filed against Platt was denied.
---
May 2013 Financial Event
Status:

Final

Type:

Bankruptcy

Disposition:

Discharged

Broker Comment:

Bankruptcy was filed to resolve an employment contract dispute. Former employer would not accept full payment or settle. This was not investment-related nor was it related to clients, accounts, or activity as a licensed advisor. 
---
November 2012 Financial Event
Status:

Final

Type:

Compromise

Disposition:

Satisfied/Released
---
Contact Us Today
The Sonn Law Group is currently investigating allegations surrounding Robin Vail Platt. We represent investors in claims against negligent brokers and brokerage firms. If you or your loved one experienced investment losses, we are here to help. For a free consultation, please call us now at 866-827-3202 or complete our contact form.