Birardi was accused of ignoring red flags that brokers were making excessive, unsuitable trades.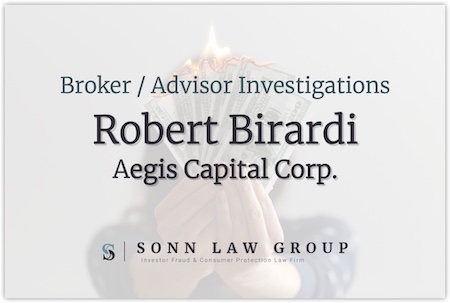 Roberto Birardi (CRD: 4737649) is registered as a broker with Aegis Capital Corp., where he has been employed since 2010. Previously, Birardi was registered as a broker with Gunnallen Financial from 2003 until 2010.
Birardi has two disclosures on his BrokerCheck report. 
November 2021 Regulatory Judgment
Status:

Final

Initiated By:

FINRA

Allegations:

Without admitting or denying the findings, Birardi consented to the sanctions and to the entry of findings that he failed to reasonably supervise his member firm's registered representatives who worked in one of its branch offices. The findings stated that as a designated supervisory principal, Birardi was presented with but did not respond to multiple red flags identifying potentially excessive and unsuitable trading in customer accounts managed by the representatives, including, among others, exception reports generated by the firm's clearing firm. As a result, the firm representatives engaged in excessive and unsuitable trading in customer accounts, generating combined customer costs (including commissions, markups or markdowns, margin interest and fees) of more than $2.6 million, and cumulative losses of $4 million.

Resolutation:

Acceptance, Waiver & Consent (AWC)

Sanctions:

Civil and Administrative Penalty(ies)/Fine(s)

Amount:

$5,000.00

Sanctions:

Suspension

Registration Capacities Affected:

Any principal capacity

Duration:

Three months

Start Date: 1

2/6/2021

End Date:

3/5/2022

Sanctions:

Undertaking

Sanctions:

Birardi consented to an undertaking that, within 90 days of notice that this AWC has been accepted, he will attend and satisfactorily complete 20 hours of continuing education concerning supervisory responsibilities.
---
July 2010 Customer Dispute
Status: Settled
Allegations:

Claimants allege that Mr. Birardi poorly supervised the subject broker who handled the accounts. However, these were non-discretionary accounts in which claimants controlled every aspect of each transaction. This claim will be vigorously defended.

Damage Amount Requested:

$375,000.00

Settlement Amount:

$71,125.00

Broker Comment:

I was added to this complaint as branch manager one year after initial complaint was submitted by client. I adamantly deny all allegations alleged by the claimants which were untrue and malicious in my opinion.
---
Contact Us Today
The Sonn Law Group is currently investigating allegations surrounding Roberto Birardi. We represent investors in claims against negligent brokers and brokerage firms. If you or your loved one experienced investment losses, we are here to help. For a free consultation, please call us now at 866-827-3202 or complete our contact form.