Vizanko is also facing a pending customer dispute alleging misappropriation of funds.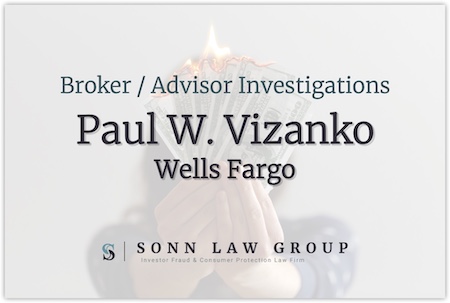 Paul Warren Vizanko (CRD#: 2572222) was registered as a broker with Wells Fargo from 2015 until 2021. Previously, Vizanko was registered as a broker with Merrill Lynch from 2009 until 2015.
Vizanko has three disclosures on his BrokerCheck report. 
August 2021 Customer Dispute
Status:

Pending

Allegations:

Customer complains that the financial advisor cashed checks payable to the financial advisor meant for the client but kept the monies for himself. (09/23/2015-12/22/20)
---
May 2021 Regulatory Judgment
Status:

Final

Initiated By:

FINRA

Allegations:

Respondent Vizanko failed to respond to FINRA request for information.

Resolution:

Letter

Sanctions:

Bar

Registration Capacities Affected:

All Capacities

Duration:

Indefinite

Start Date:

8/30/2021

Regulator Statement:

Pursuant to FINRA Rule 9552(h) and in accordance with FINRA's Notice of Suspension and Suspension from Association letters dated May 26, 2021 and June 21, 2021, respectively, on August 30, 2021, Vizanko is barred from association with any FINRA member in all capacities. Vizanko failed to request termination of his suspension within three months of the date of the Notice of Suspension; therefore, he is automatically barred from association with any FINRA member in all capacities.
---
January 2021 Employment Separation After Allegations
Firm Name:

Wells Fargo Cleaning Services, LLC

Termination Type:

Discharged

Allegations:

FA borrowed funds from a client. With respect to another client ("Client 2"), FA failed to disclose to the Firm that (1) FA received a cash gift from Client 2 and (2) FA was a beneficiary of Client 2's Trust. Client 2 alleged FA misappropriated funds from him.
---
Contact Us Today
The Sonn Law Group is currently investigating allegations surrounding Paul Warren Vizanko. We represent investors in claims against negligent brokers and brokerage firms. If you or your loved one experienced investment losses, we are here to help. For a free consultation, please call us now at 866-827-3202 or complete our contact form.