Horsman is also facing a pending civil lawsuit stemming from the same alleged misconduct.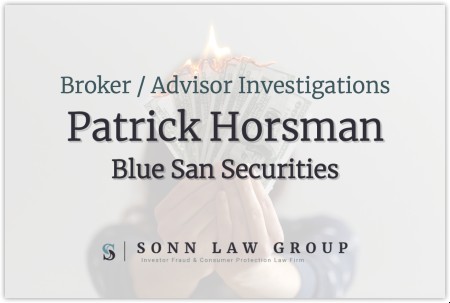 Patrick Horsman (CRD#: 4694883) was registered as a broker with Blue Sand Securities from 2007 until 2020. Previously, Horsman was registered as a broker with Pali Capital from 2004 until 2007.
Horsman has four disclosures on his BrokerCheck report. 
October 2020 Employment Separation After Allegations
Firm Name:

Blue Sand Securities LLC

Termination Type:

Permitted to Resign

Allegations:

Complaint alleges negligent misrepresentation, breach of implied covenant of good faith, unjust enrichment, and fraud.
---
October 2020 Civil Lawsuit
Status:

Pending

Initiated By:

Ian Lev

Allegations:

Negligent misrepresentation, breach of implied covenant of good faith, unjust enrichment, fraud.

Broker Comment:

The registered representative informed the firm that he had been named in a lawsuit related to a previously disclosed outside business activity. The registered representative expressed to the firm that he believes that the lawsuit lacks any basis, and that he intends to strongly defend the suit.
---
March 2018 Regulatory Judgment
Status:

Final

Initiated By:

Massachusetts Securities Division

Allegations:

Horsman is the subject of one regulatory action while registered with Blue Sand. Horsman was suspended for 10 business days and fined by FINRA.

Resolution:

Consent 

Sanctions:

Undertaking

Sanctions:

D.For a period of three (3) years from the date of the entry of the Order, heightened supervision of Horsman shall, at a minimum, include the following: all potential Massachusetts investors shall be reviewed by a principal of Blue Sands to ensure that each potential Massachusett investor qualifies as an accredited institutional investor; and 2) the compliance department's audit shall include a mandatory review of all of Horsman's personal securities transactions. All reviews shall be undertaken to detect and prevent potential securities violations and be memorialized in writing

Broker Comment:

Massachusetts via its Undertakings restricted Mr. Horsman's activities in Massachusetts and he may not perform principal, supervisory, or managerial duties for a period of 3 years with respect only to Massachusetts based customers. 
---
March 2017 Regulatory Judgment
Status:

Final

Initiated By:

FINRA

Allegations:

Without admitting or denying the findings, Horsman consented to the sanctions and to the entry of findings that he purchased shares in 11 initial public offerings (IPOs) in three personal brokerage accounts held at three FINRA member firms. The findings stated that FINRA rules prohibits a person associated with a member from purchasing a new issue in any account in which such person associated with a member has a beneficial interest. The findings also stated that Horsman orally disclosed four outside brokerage accounts to his member firm, but failed to promptly notify the firm of the accounts in writing.

Resolution:

Acceptance, Waiver & Consent (AWC)

Sanctions:

Civil and Administrative Penalty(ies)/Fine(s)

Amount:

$20,000.00

Sanctions:

Disgorgement

Amount:

$10,537.34

Sanctions:

Suspension

Registration Capacities Affected:

Any Capacity

Duration:

10 business days

Start Date:

7/3/2017

End Date:

7/17/2017
---
Contact Us Today
The Sonn Law Group is currently investigating allegations surrounding Patrick Horsman. We represent investors in claims against negligent brokers and brokerage firms. If you or your loved one experienced investment losses, we are here to help. For a free consultation, please call us now at 866-827-3202 or complete our contact form.