Coogan allegedly misrepresented material facts in agreements he signed in connection with loans his customers obtained from multiple banks.
The Sonn Law Group is investigating allegations that Patrick Coogan made material misrepresentations. If you or a family member has suffered losses investing, we want to discuss your case. Please contact us today for a free review of your case.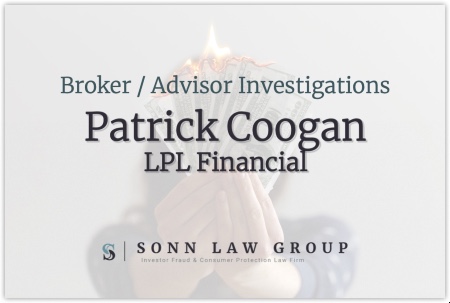 Patrick Coogan (CRD#: 4576580) was barred by FINRA from associating with any FINRA member firm in any capacity for allegedly making, "reckless misrepresentations of material fact in seven agreements he signed in connection with loans his customer ("JS") obtained from three banks," according to FINRA's findings. 
The findings stated that the alleged misconduct during the period of September 2013 and May 2016 and was in violation of LPL's Written Supervisory Procedures and Compliance Manual, which prohibits LPL representatives from "[e]ntering into any contractual or other relationship . . . on behalf of, or in the name of LPL Financial," and from "[e]stablishing . . . collateral accounts without the prior written approval" of LPL. 
The findings specifically alleged that during the period referenced above, Coogan's customer, JS, obtained loans from three banks. JS pledged assets in his LPL brokerage account (the "account") as collateral for the loans, which together had a principal amount in excess of $1 million. JS allegedly over-pledged the assets of the account to obtain the loans. 
In order to provide the funds to JS, each bank required an agreement signed on behalf of LPL, called a "control agreement." Control agreements are designed to perfect the bank's security interest in the Account's assets and ensure that in the event of a default, the bank would be able to access the account's assets before JS's other creditors. Coogan, who was the broker of record for JS's LPL account, signed seven control agreements with the lender banks in connection with the loans. 
Coogan did not request or obtain approval from LPL before signing any of the control agreements, nor did he inform LPL after the agreements were signed. 
FINRA alleges that the seven control agreements that Coogan signed contained material misrepresentations that fall into three categories. First, FINRA alleges that in all of the agreements, Coogan represented that he was authorized to sign on LPL's behalf. This was a misrepresentation because Coogan did not have that authorization.
Second, in three of the agreements, FINRA alleges that Coogan represented that LPL had marked its books and records to reflect that the account's assets had been pledged as collateral to the bank. However, Coogan did not mark the books and records to reflect the change, nor did he take steps to ensure LPL did so. 
Lastly, in three of the agreements, Coogan alleged represented that LPL had not acknowledged or received notice of any other claim on the account's assets. Despite this representation, Coogan was aware that other claims had been made on the account's assets because he had signed prior control agreements acknowledging continuing claims on the account's assets. 
Because of these misrepresentations by Coogan, FINRA alleges that JS was able to improperly obtain multiple loans by over-pledging his account's assets. 
FINRA's findings concluded by stating that Coogan either knew or was reckless in not knowing that the agreements he signed contained the misrepresentations listed above. Specifically, at one point Coogan became aware that one bank's right to exercise control of the account's assets conflicted with another bank's right to do so. Despite this realization, Coogan continued to sign control agreements in connection with JS's loans. 
Contact Us Today
The Sonn Law Group is currently investigating allegations that Patrick Coogan signed agreements containing material misrepresentations. We represent investors in claims against negligent brokers and brokerage firms. If you or your loved one experienced investment losses, we are here to help. For a free consultation, please call us now at 866-827-3202 or complete our contact form.