Murry Shapero was also fined $20,000 by his employer based on the same allegations.
The Sonn Law Group is investigating allegations that Murry Shapero committed misconduct. If you or a family member has suffered losses investing, we want to discuss your case. Please contact us today for a free review of your case.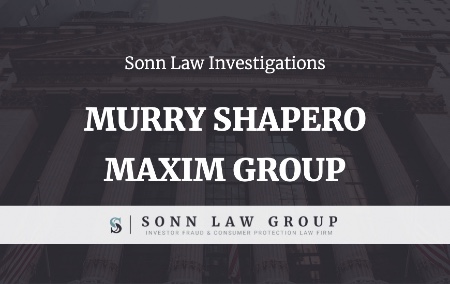 Murry Shapero (CRD#: 1846138)  consented to the sanctions and to the entry of findings stating that he exercised discretion in customers' accounts without the customers' prior written authorization when he affected trades in customer accounts and his member firm did not accept in writing any of these accounts as discretionary.
The findings stated that these transactions were part of an options strategy Shapero employed.
Specifically, FINRA's findings alleged that Shapero effected 1,001 unauthorized trades in 75 different customers' accounts. Based on this conduct, Shapero accepted sanctions in the form of suspension from association with any FINRA member firm for a period of one month. FINRA determined not to impose a fine because Shapero was fined $20,000 for the same conduct by his firm.
Shapero was the subject of a customer dispute in April 1995 where the client alleged that he misrepresented information, omitted facts, and committed negligence. The matter was settled for $17,500. 
Contact Us Today
The Sonn Law Group is currently investigating allegations of misconduct. We represent investors in claims against negligent brokers and brokerage firms. If you or your loved one experienced investment losses, we are here to help. For a free consultation, please call us now at 866-827-3202 or complete our contact form.