Reither is accused of borrowing money from a customer while employed by First Allied Securities.
The Sonn Law Group is investigating allegations that Michael Reither borrowed money from a customer. If you or a family member has suffered losses investing, we want to discuss your case. Please contact us today for a free review of your case.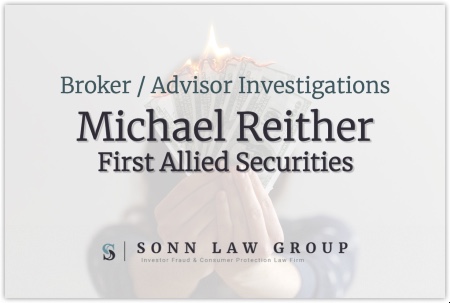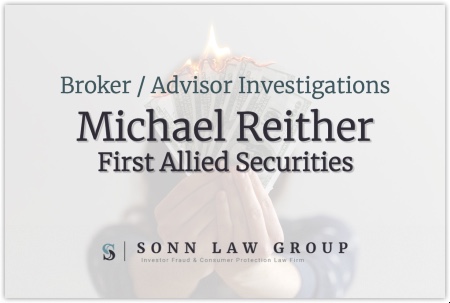 Michael Reither (CRD#: 853363) was previously employed by First Allied Securities from 2008 until 2017. More recently, he was employed with Dominion Investor Services from 2017 until 2018.
In April 2020, the Missouri Securities Division ordered Reither to cease and desist and show cause why restitution of over $46,000 should not be paid.
The Securities Division alleged that Reither engaged in dishonest and unethical conduct by borrowing money from a client while he was employed with First Allied Securities. He also failed to inform his employer of the outside business activity with the client. Reither has yet to repay the loan made by the client.
The Securities Division is seeking an order for restitution of at least $46,839 plus interest, a civil penalty of $10,000, investigation costs, and permanently barring Reither from acting as a broker-dealer agent or investment adviser representative.
Reither has two other disclosures on his BrokerCheck report.
---
November 2017 Employment Separation After Allegations
Firm Name:

First Allied

Termination Type:

Discharged

Allegations:

"RR did not comply with the firm's signature guarantee stamp requirements."

Broker Comment:

"In response to the allegations by First Allied Securities that I did not follow the proper procedures relating to the use of the signature guarantee medallion stamp, I maintain that I acted in good faith and observed the procedures as I understood them. At no time during the course of my career with First Allied was my use of the stamp called into question until this investigation. When conducting signature guarantees for the reps in my office, I always complete the applicable form required by First Allied in its entirety. If a known client did not appear before me to guarantee their signature, I validated the signature by comparing it to other client signed documents. In closing, I feel that I complied with my responsibilities as I understood them and have never been told differently." 
---
January 2013 Customer Dispute
Status:

Settled

Allegations:

"Clients state that ING material presented was misleading, and that they did not fully understand contract from May 2003 to present.."

Settlement Amount:

$6,900.00

Broker Comment:

"In the complaint that was filed by the clients it was made very clear they had no complaint against their advisor (Michael E. Reither). Their complaint was solely directed against ING Life & Annuity Company's misleading sales material."
---
Contact Us Today
The Sonn Law Group is currently investigating allegations that Michael Reither borrowed money from a customer. We represent investors in claims against negligent brokers and brokerage firms. If you or your loved one experienced investment losses, we are here to help. For a free consultation, please call us now at 866-827-3202 or complete our contact form.