Leahy was the sole principal and compliance officer of Standard Financial Company for the period of alleged misconduct.
The Sonn Law Group is investigating allegations that Michael Leahy failed to supervise representatives. If you or a family member has suffered losses investing, we want to discuss your case. Please contact us today for a free review of your case.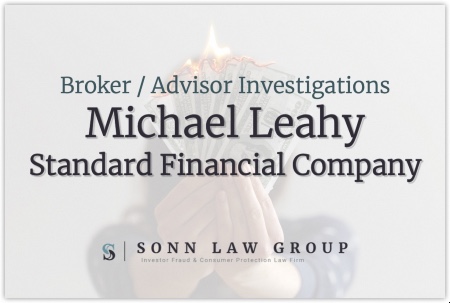 Michael Leahy (CRD#: 1899498) was barred by FINRA over allegations that he failed to supervise excessive and unsuitable trading by a registered representative between September 18, 2019, and October 8, 2019, while he was the sole principal and compliance officer for Standard Financial Company.
Leahy was also fined $5,000. FINRA findings identify the representative as "PS".
According to FINRA, PS allegedly engaged in unauthorized trading, used margins without authorization, recommended unsuitable transactions, and charged excessive commissions to dozens of clients.
First Standard experienced an "exodus of registered representatives and principals" on or about September 18, 2019, leaving PS as the only registered representative trading client accounts, inheriting the accounts of departing brokers, according to FINRA. 
FINRA alleged that Leahy was the only person responsible for supervising PS during that period. He allegedly missed numerous red flags about PS's behavior, including trade blotters showing frequent in-and-out trading, commissions often exceeding 5% of transactions, several customer complaints and a notification from a clearing firm about PS's potentially unauthorized trading, according to FINRA's findings.
By failing to notice these red flags, PS engaged in misconduct until the New Jersey Bureau of Securities revoked his registration on October 8, 2019. 
In October 2019, First Standard allowed Philip Sparacino, a registered representative, to resign following a State of New Jersey revocation order. Finra barred Sparacino in November over his refusal to provide requested documents, according to BrokerCheck.
The former broker has two customer disputes on his record that were closed with no action, both alleging unauthorized trading and excessive commissions, and a pending customer dispute alleging churning and unsuitable trades, all from between December 2018 and October 2019.
Contact Us Today
The Sonn Law Group is currently investigating allegations that Michael Leahy failed to properly supervise registered representatives. We represent investors in claims against negligent brokers and brokerage firms. If you or your loved one experienced investment losses, we are here to help. For a free consultation, please call us now at 866-827-3202 or complete our contact form.