Former Merrill Lynch Broker Charles E. Kenahan Faces $83M in Customer Disputes Over Allegations of Unsuitable Investments, Unauthorized Trading, and Excessive Trading ("Churning").
The Sonn Law Group is investigating Merrill Lynch Broker Charles E. Kenahan. If you've suffered losses, or a family member has suffered losses investing with Mr. Kenahan, we want to discuss your case. Please contact us today for a free review of your case.
Contact Sonn Law Group to Discuss Merrill Lynch Investment Loss Recovery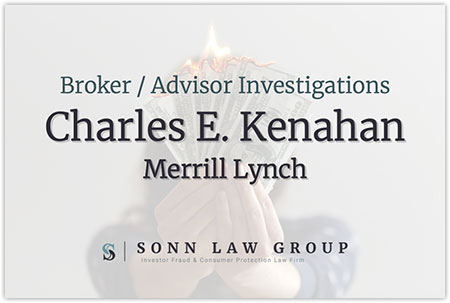 Charles E. Kenahan (CRD#: 1351974) is facing claims of $83 million from three different Merrill Lynch customers.
One customer is filing a claim worth $42.2 million. This customer is former governor of New Hampshire, Craig Benson.
Mr. Benson's claim includes allegations of excessive trading ("churning"), unauthorized trading and unsuitable investments from December 2007 to February 2018.
A spokesman for Merrill Lynch stated that Merrill Lynch "disagree[s] with the claim that's been filed.
This is a case that doesn't add up: a sophisticated, high net worth investor who claims to have been unaware of activity in their account for 11 years."
"[My] account was churned in large part for the benefit of generating commissions that benefited . . . Charles Kenahan . . . but mostly Merrill Lynch," Benson stated.
$40 million Settlement to a Former Customer of Charles E. Kenahan
Before this claim was filed, Merrill Lynch paid out a $40 million settlement to a former customer of Charles E. Kenahan, Robert Levine,  making similar claims. In this settlement, Levine alleged that Mr. Kenahan was making misrepresentations in regards to trades with penny, common and preferred stocks.
Merrill Lynch initially denied the allegations, but eventually settled prior to the arbitration panel announcing its decision. The $40 million settlement is the largest single payout to an individual claimant in the last decade according to FINRA.
Levine and Benson were both accomplished businessmen, co-founding a company called Cabletron Systems out of Levine's garage in the 1980s. "What started as something that we'd be able to save for, in my case, I wanted a refrigerator and a freezer, Bob wanted a little bit more than that. And we thought we'd sell a few things and be done. Turned out, it went to 7,000 employees and $1.6 billion in sales, and listed on the New York Stock Exchange," Benson stated.
Both men stated that they are not experts in the financial market, nor are they investment professionals. They sought out experienced financial advisors like Kenahan instead. According to arbitration documents, Benson and Levine's accounts totalled over $380 million. The pair stated that their accounts were originally with Morgan Stanley, but Kenahan pressured Benson to move his accounts to Merrill Lynch in 2007. 
Charles Kenahan Recently Fired Over Customer Allegations of Misconduct
Merrill Lynch fired Charles Kenahan on July 9th, 2019 due to customer allegations of "churning", unauthorized trading and unsuitable investment recommendations. However, the firm is still paying for his legal defense.
"It really is the firm's job to supervise all of their associated persons," said Straney, a managing partner at Arbitration Insight, who testified as an expert witness in Levine's case. "It is not the duties of the individual investor to supervise themselves."
Following these allegations, New Hampshire's Bureau of Securities Regulation initiated an investigation into Merrill Lynch and at least one of their former brokers. Kenahan's BrokerCheck account stated that, "the state of New Hampshire is conducting an investigation into certain trading practices of Mr. Kenahan." 
Contact Sonn Law to Discuss Recovery Options
The Sonn Law Group is currently investigating allegations that Charles Kenahan committed misconduct. We represent investors in claims against negligent brokers and brokerage firms. If you or your loved one experienced investment losses, we are here to help. For a free consultation, please call us now at 866-827-3202 or complete our contact form.