Garrett also has a pending criminal charge for embezzlement.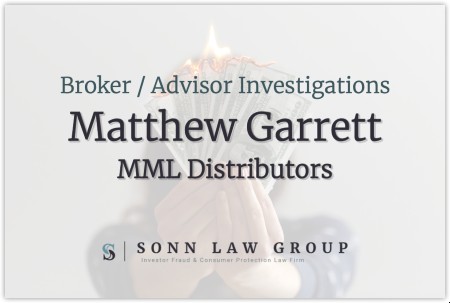 Matthew Douglas Garrett (CRD#: 6485387) was registered as a broker with MML Distributors in Cordova, TN, from May 2015 until March 2017. This is the only firm Garrett was registered with during his career as a broker. 
Garrett has two disclosures on his BrokerCheck report. 
August 2017 Regulatory Judgment
Status:

Final

Initiated By:

FINRA

Allegations:

Respondent Garrett failed to respond to FINRA request for information.

Resolution:

Letter

Sanctions:

Bar

Registration Capacities Affected:

All Capacities

Duration:

Indefinite

Start Date:

12/4/2017

Regulator Statement:

Pursuant to FINRA Rule 9552(h) and in accordance with FINRA's Notice of Suspension and Suspension from Association letters dated August 29, 2017, and September 22, 2017, respectively, on December 4, 2017, Garrett is barred from association with any FINRA member in any capacity. Respondent failed to request termination of his suspension within three months of the date of the Notice of Suspension; therefore, he is automatically barred from association with any FINRA member in any capacity.
---
July 2016 Criminal Disposition
Status:

Pending

Charges:

Embezzlement 
---
Contact Us Today
The Sonn Law Group is currently investigating allegations surrounding Matthew Garrett. We represent investors in claims against negligent brokers and brokerage firms. If you or your loved one experienced investment losses, we are here to help. For a free consultation, please call us now at 866-827-3202 or complete our contact form.