The complaint alleged that Clason stole over $300K from an elderly client in 2019.
The Sonn Law Group is investigating allegations that Matthew Clason stole client funds. If you or a family member has suffered losses investing, we want to discuss your case. Please contact us today for a free review of your case.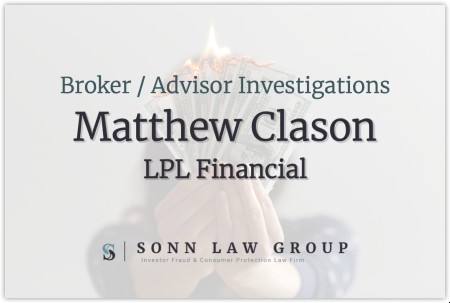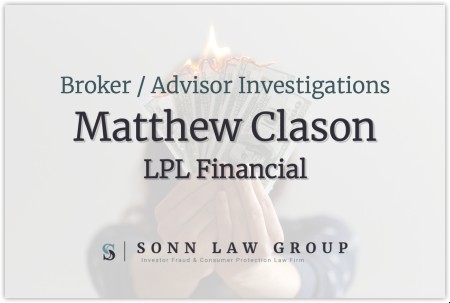 Matthew Clason (CRD#: 4692266) was registered with both LPL Financial and Integrated Wealth Concepts, an RIA in Glastonbury, Connecticut. Clason was allegedly fired by RIA on August 13 for failing to comply with firm policies with respect to handling client funds, and was fired by LPL Financial on August 19. 
On September 1, 2020, the SEC filed an emergency action charging Clason with stealing thousands of dollars from an advisory client. The allegations state that beginning in February 2019, Clason stole over $300,000 from a retired 73-year-old client. Clason allegedly perpetrated the fraud by liquidating securities in the client's accounts, transferring the proceeds from the sales to a bank account he held jointly with the client for investment purposes and to facilitate the payment of miscellaneous monthly expenses, and withdrawing cash from the account on multiple occasions at different bank locations. The complaint states that the client did not know about, nor approve of the withdrawals made by Clason and did not receive any of the cash that was withdrawn. 
The SEC's complaint, filed in federal court in Connecticut, alleges that Clason violated the antifraud provisions of Sections 206(1) and 206(2) of the Investment Advisers Act of 1940. The SEC is requesting that the court enter an order freezing Clason's assets and requiring an accounting. The SEC also seeks permanent injunctive relief, disgorgement plus prejudgment interest, and civil penalties.
Contact Us Today
The Sonn Law Group is currently investigating allegations that Matthew Clason stole client funds. We represent investors in claims against negligent brokers and brokerage firms. If you or your loved one experienced investment losses, we are here to help. For a free consultation, please call us now at 866-827-3202 or complete our contact form.