The client is seeking $500k in damages for Upchurch's alleged misconduct.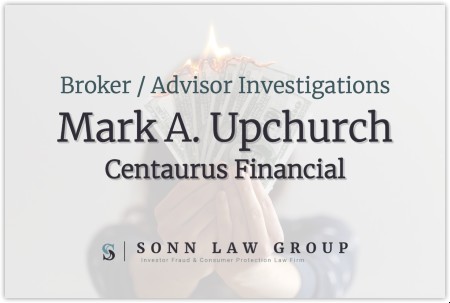 Mark Allen Upchurch (CRD#: 2937074) was registered as a broker with Centaurus Financial from 2012 until 2020. Previously, Upchurch was registered as a broker with Brookstone Securities, who has since been expelled by FINRA.
Upchurch has six disclosures on his BrokerCheck report.
January 2021 Customer Dispute
Status:

Pending

Allegations:

During the period of approximately 2012 through 2018, the customer alleges that the financial advisor misrepresented unsuitable investments and the associated commissions and fees.

Damage Amount Requested:

$500,000.00
---
April 2018 Customer Dispute
Status:

Settled

Allegations:

Claimant alleges unsuitable investment recommendations and misrepresentation in connection with the sale of various securities.

Damage Amount Requested:

$5,000.00

Settlement Amount:

$17,500.00

Broker Comment:

The Registered Representative vehemently denies any wrongdoing and asserts that the customer's allegations are completely without merit. The customer was an active participant in the selection of investments and was well aware of the features and risks of the investments selected. The customer confirmed in writing that she not only received the requisite investment documentation, but that she understood its content. The investments about which she complained were recommended based on her objectives, goals and financial circumstances and were offered only after the customer's review of all material documentation related to the investment. At all times, the Registered Representative put the customer's interest first and will vigorously defend this matter to the fullest extent of the law.
---
October 2006 Regulatory Judgment
Status:

Pending

Initiated By:

NASD

Allegations:

NASD Rule 2110 – Respondent signed a public customer's name to an account transfer form without her permission.

Resolution:

Acceptance, Waiver & Consent (AWC)

Sanctions:

Civil and Administrative Penalty(ies)/Fine(s)

Sanctions:

Suspension

Regulator Statement:

Without admitting or denying the findings, respondent consented to the described sanctions and to the entry of findings; therefore he is fined $5,000 and suspended from association with any NASD member in any capacity for 30 business days.. The fine must be paid before Upchurch re-associates with any NASD member following the suspension or before requesting relief from any statutory disqualification. The suspension in any capacity is effective from October 16, 2006 through November 27, 2006. Fines paid on January 31, 2008.
---
March 2006 Customer Dispute
Status:

Settled

Allegations:

Customer claims he did not give instructions to liquidate a municipal bond [in a] separately managed account. He did give these instructions as did the other account holder. There were no trading costs to liquidate and the account experienced a loss of less than $2000.00 this is documented in the file.

Damage Amount Requested:

$12,500.00

Settlement Amount:

$4,143.81
---
October 2004 Customer Dispute
Status:

Settled

Allegations:

Failure to provide suitable investment recommendations

Damage Amount Requested:

$47,000.00

Settlement Amount:

$15,000.00

Broker Comment:

Court compelled arbitration, as of amendment filing date, no arbitration has been filed.
---
Contact Us Today
The Sonn Law Group is currently investigating allegations surrounding Mark Allen Upchurch. We represent investors in claims against negligent brokers and brokerage firms. If you or your loved one experienced investment losses, we are here to help. For a free consultation, please call us now at 866-827-3202 or complete our contact form.