A federal lawsuit claims GPB Capital Holdings has been paying investors dividends out of their own invested funds.
The Sonn Law Group is investigating allegations that brokers have recommended investments in GPB Capital Holdings or its affiliates without fully disclosing the risk associated with them. If you or a family member has suffered losses investing in GPB Capital Holdings, we want to discuss your case. Please contact us today for a free review of your case.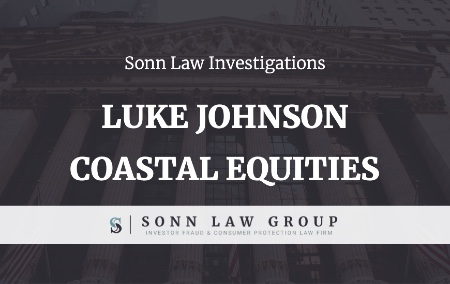 According to his BrokerCheck report (CRD#: 3257008), Luke Johnson has been accused of selling GPB Capital Investments. Additionally, he has been the subject of seven total customer complaints.
GPB Capital has been the subject of mounting legal scrutiny over the past months. The following include some admissions made by the company. 
GPB Capital auditor has suspended work

GPB Capital Audit Committee is resigned on November 27, 2019

Financials will not be released by the end of the year, no deadline has been set for audited financials (despite earlier assurances to investors that they would be released by 2020)

GPB conceded that it's Automotive Portfolio has lost at least $212 million and GPB Holdings II has lost in excess of $125 million

GPB Capital is blocking any transfer of interests in the GPB funds on the secondary private market
In addition to these issues, GPB's CCO was indicted for illegally obtaining information on the SEC's investigation into GPB Capital and sharing it with the firm. GPB is also being investigated by FINRA and the FBI.
Contact Us Today
The Sonn Law Group is currently investigating allegations that brokers recommended investments with GPB Capital Holdings. We represent investors in claims against negligent brokers and brokerage firms. If you or your loved one experienced investment losses, we are here to help. For a free consultation, please call us now at 866-827-3202 or complete our contact form.