Olave was previously named in a customer dispute alleging unsuitable recommendations.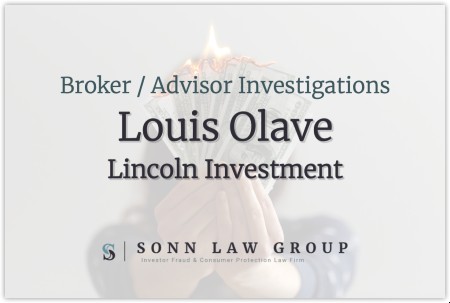 Louis Olave (CRD: 5904834) is registered as a broker with Lincoln Investment where he has been employed since 2019. Previously, Olave was registered as a broker with Questar Capital Corporation from 2015 until 2019.
Olave has five disclosures on his BrokerCheck report. Three customer disputes filed against Olave were denied.
April 2021 Regulatory Judgment
Status:

Final

Initiated By:

FINRA

Allegations:

Without admitting or denying the findings, Olave consented to the sanctions and to the entry of findings that he participated in private securities transactions totaling $217,477 without prior disclosure to, or approval from, his member firm. The findings stated that Olave solicited investors to purchase securities of a company that represented itself as a structured cash flow investment that purchased pensions at a discount from pensioners and then sold a portion of those pensions as a pension stream to investors. The company generally promised investors a seven to eight percent rate of return on their investment. Olave received a total of $3,795 in commissions in connection with his sales of the securities.

Resolution:

Acceptance, Waiver & Consent (AWC)

Sanctions:

Civil and Administrative Penalty(ies)/Fine(s)

Amount:

$5,000.00

Sanctions:

Suspension

Registration Capacities Affected:

All Capacities

Duration:

Three months

Start Date:

5/3/2021

End Date:

8/2/2021
---
April 2020 Customer Dispute
Status:

Award / Judgment

Allegations:

Claimant [REDACTED] . . . seeks damages in this arbitration based on the unsuitable investment advice from Respondent Questar Capital Corporation ("Questar") and their registered representative, Respondent Louis Olave ("Olave"). Olave unreasonably advised Claimant to purchase Future Income Payments, LLC ("FIP") assets. [Claimant] purchased $25,000 in FIP assets with half of her life savings.

Damage Amount Requested:

$24,000.00

Damages Granted:

$23,999.28
---
Contact Us Today
The Sonn Law Group is currently investigating allegations surrounding Louis Olave. We represent investors in claims against negligent brokers and brokerage firms. If you or your loved one experienced investment losses, we are here to help. For a free consultation, please call us now at 866-827-3202 or complete our contact form.