The founder of the alleged fraudulent scheme, arrested after FBI agents located multiple firearms in his Philadelphia home. 
The Sonn Law Group is investigating allegations that Par Funding founders Joseph LaForte and Lisa McElhone committed fraud. If you or a family member has suffered losses investing, we want to discuss your case. Please contact us today for a free review of your case.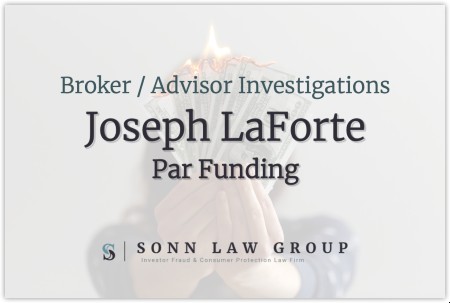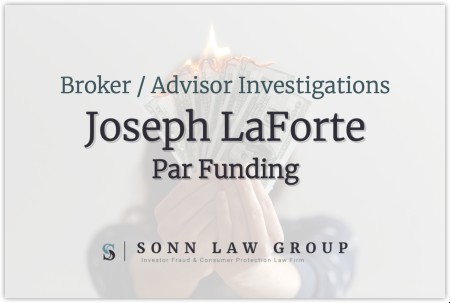 The founder of Par Funding, Joseph LaForte, was arrested on weapons charges after FBI agents searched his Philadelphia home and located seven loaded guns. Laforte, who is a convicted felon, is prohibited from possessing firearms. Authorities refused to comment on whether the search of LaForte's home is connected to the ongoing investigation into Par Funding's alleged fraudulent activities. 
The arrest comes two weeks after the SEC filed a complaint against Par Funding and its affiliates, as well as founders Joseph LaForte and Lisa McElhone, alleging that the company offered unregistered, fraudulent securities in order to raise almost half a billion dollars from approximately 1,200 across the United States. The complaint stated that LaForte and McElhone are "in the business" of making opportunistic loans to small businesses, some of which charge more than 400% interest, through their company Par Funding. 
The couple allegedly used unregistered sales agents to offer unregistered securities to investors in order to gain capital. In January 2018, Par Funding learned it was under investigation by the Pennsylvania Dept. of Banking and Securities for violating state securities laws regarding the use of unregistered sales agents. After the investigation commenced, Par Funding represented to the Pennsylvania Securities Regulators that it had terminated the agreements with its unregistered sales agents.
In addition to the securities charges, the SEC alleged that LaForte failed to disclose his criminal history to potential investors. The complaint alleges that Par Funding's website includes multiple articles regarding LaForte and his business successes and that LaForte describes himself as a "financial expert" in online videos. LaForte fails to disclose that he is a twice-convicted felon and was previously imprisoned and ordered to pay $14.1 million in restitution for money laundering and grand larceny. 
The SEC is seeking a temporary restraining order and preliminary injunction against the defendants named in the complaint enjoining them from committing further securities violations. The SEC is also seeking an asset freeze, an order requiring the defendants to preserve any records related to the lawsuit, and disgorgement of all ill-gotten gains.
In December 2018, the New Jersey Bureau of Securities issued a Cease and Desist Order against Par Funding. According to the order, Par Funding's unregistered agents were receiving commissions of 5% to 25%, depending on the interest rate promised to investors. Par Funding claimed that it used sales agents such as Merchant to raise over $270 million from more than 1,200 investors over the past year. 
Contact Us Today
The Sonn Law Group is currently investigating allegations that Par Funding founders Joseph LaForte and Lisa McElhone committed fraud. We represent investors in claims against negligent brokers and brokerage firms. If you or your loved one experienced investment losses, we are here to help. For a free consultation, please call us now at 866-827-3202 or complete our contact form.