Crain consented to a three-month suspension and a $5,000 fine imposed by FINRA.
The Sonn Law Group is investigating allegations that John Stuart Crain altered documents. If you or a family member has suffered losses investing, we want to discuss your case. Please contact us today for a free review of your case.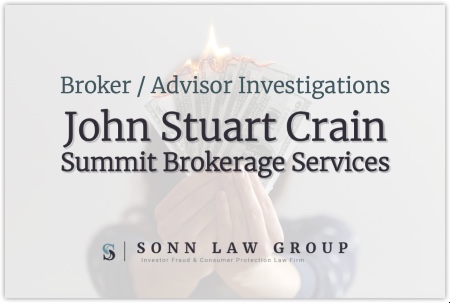 John Stuart Crain (CRD#: 2748785) consented to sanctions of three-months suspension from the financial industry and a $5,000 fine from FINRA. FINRA's findings stated that Crain asked customers of his member firm to sign and return to him blank or incomplete brokerage documents, with the customers' understanding that Crain would add the missing information. 
The findings stated that the firm warned Crain that such conduct was prohibited by the firm, after discovering a blank customer-signed document in his files. Despite these warnings, Crain allegedly asked seven of his Summit customers to sign a total of nine blank or incomplete documents and return them to him for completion.
Upon receipt of the customer-signed documents, Crain altered them by filling in the missing information on each document. All of the information that Crain added to the documents was accurate. Crain then submitted these documents as originals to the firm in order to effect transactions, all of which were requested by the customers.
Crain is currently employed with Chapin, Davis in Baltimore, MD, and has been with the company since March 2018. Prior to his employment with Chapin, Davis, Crain was registered with Summit Brokerage Services in Baltimore, MD from December 2002 until March 2018. At that time, Crain was terminated by Summit for allegedly accepting incomplete forms signed by clients. 
Contact Us Today
The Sonn Law Group is currently investigating allegations that John Stuart Crain altered documents. We represent investors in claims against negligent brokers and brokerage firms. If you or your loved one experienced investment losses, we are here to help. For a free consultation, please call us now at 866-827-3202 or complete our contact form.