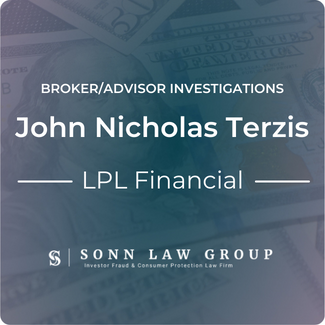 INVESTORS: Former LPL Financial broker John Nicholas Terzis was barred by FINRA following allegations he borrowed $200,000 from a 69-year-old ailing client.
John Nicholas Terzis (CRD: 1805020) was registered as a broker with LPL Financial from 2008 until 2022. Previously, Terzis was registered as a broker with IFMG Securities from 2006 until 2008.
Terzis has four disclosures on his BrokerCheck report. One customer dispute filed against Terzis was denied.
---
December 2022 Regulatory Judgment
Initiated By: FINRA
Allegations: Without admitting or denying the findings, Terzis consented to the sanction and to the entry of findings that pursuant to a ten-year written promissory note, he borrowed $200,000 from one of his customers, a 69-year-old senior who had health issues, without first notifying or obtaining approval from his member firm. The findings stated that to facilitate the borrowing, Terzis assisted the customer with transferring funds to her personal bank account. For almost two years Terzis made monthly payments on the loan but ceased making payments thereafter. Given his financial circumstances at the time he borrowed the money, Terzis did not have a reasonable expectation of being able to repay the loan in full. In addition, Terzis falsely stated in response to a firm compliance questionnaire that he had not issued or participated in any promissory notes outside of the firm and had not solicited clients to lend funds.
Resolution: Acceptance, Waiver & Consent (AWC)
Bar: Bar (Permanent)
Registration Capacities Affected: All Capacities
Duration: Indefinite
Start Date: 12/23/2022
---
February 2022 Employment Separation After Allegations
Firm Name: LPL Financial LLC
Termination Type: Discharged
Allegations: Failed to timely disclose loan arrangement with customer to Firm.
---
December 2021 Customer Dispute
Status: Pending
Allegations: Through attorney, client alleges misappropriation of funds in excess of $5k; Time period of claim: 12/19/2019- 01/06/2020
Damage Amount Requested: $200,000.00
---
The Sonn Law Group is currently investigating allegations surrounding John Nicholas Terzis. We represent investors in claims against negligent brokers and brokerage firms. If you or your loved one experienced investment losses, we are here to help. For a free consultation, please call us now at 866-827-3202 or complete our contact form.