The dispute also alleges that Davenport recommended and sold securities without adequate due diligence.
The Sonn Law Group is investigating allegations that John Davenport committed misconduct. If you or a family member has suffered losses investing, we want to discuss your case. Please contact us today for a free review of your case.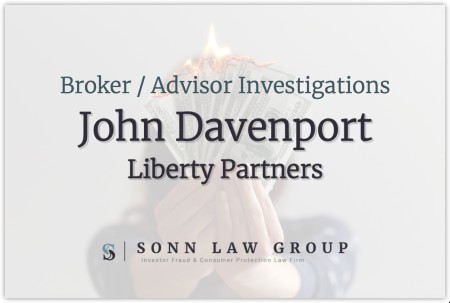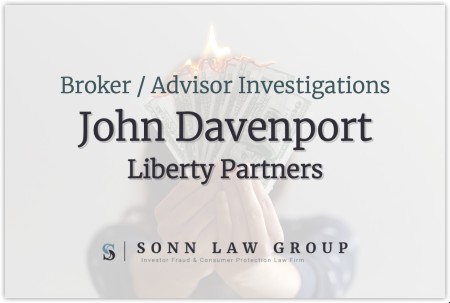 John Davenport (CRD#: 1448999) is currently a broker at Liberty Partners Financial Services, where he has been employed since 2016. Previously, he was employed with Securities America from 2014 until 2016.
Davenport has nine total disclosures on his BrokerCheck report.
July 2019 Customer Dispute
Status:

Pending

Allegations:

"Violations of FINRA 2110, failure to observe high standards of commercial honor and just and equitable principles of trade, FINRA 2111, recommending and selling securities without adequate due diligence and without reasonable basis; negligence, misrepresentation and omission of material fact, and breach of fiduciary duty."

Broker Comment:

"The firm vehemently denies these allegations."
---
January 2019 Regulatory Judgment
Status: Final
Initiated By: FINRA
Allegations: "Without admitting or denying the findings, Davenport consented to the sanctions and to the entry of findings that he placed two securities transactions for a registered representative of another firm and split the commissions generated from the transactions with that representative, without the knowledge or consent of either firm, and without reflecting the commission sharing on his member firm's books and records. The findings stated that Davenport paid the registered representative from the other firm approximately $50,000, which represented approximately half of the total commissions on the variable annuity transactions, ostensibly as a referral fee, causing his firm's books and records to be inaccurate. The findings also stated that while registered through his current firm, Davenport permitted his assistant to use a personal email address to communicate with securities customers concerning business-related matters, which was not approved by the firm, causing the firm to fail to retain the emails among its books and records. Davenport and others at his current firm have represented that they have since discussed the use of personal email to conduct firm business with his assistant, and his assistant is now using a firm-approved email address for all business communications."
Resolution:

Acceptance, Waiver & Consent (AWC)

Sanctions:

Civil and Administrative Penalty(ies)/Fine(s)

Amount:

$20,000

Sanctions:

Suspension

Registration Capacities Affected:

All Capacities

Duration:

Two Months

Start Date:

2/19/2019

End Date:

4/18/2019
---
February 2017 Financial Event
Status:

Pending

Type:

Bankruptcy
---
July 2016 Judgment/Lien
Judgment/Lien Amount:

$216,041.00

Judgment/Lien Type:

Tax

Broker Comment:

"This is a result of a tax error that dates back to 2006 when my account firm made a serious error on my Federal return. I am in final negotiations with the IRS to settle this matter."
---
June 2016 Judgment/Lien
Judgment/Lien Amount:

$949,310.00

Judgment/Lien Type:

Tax

Broker Comment:

"Discovered by B/D when a credit report was pulled on 7/22/16. Per Rep: this resulted from an accountant error in 2006 that was not discovered until a year later. The total amount owed is still in question and under negotiation by legal representative. He was unaware of the lien being filed until July 5, 2016."
---
February 2012 Customer Dispute
Status:

Denied

Allegations:

"Client alleges representative gave poor advice when he suggested client move his TRS account to a variable annuity in 2007."

Broker Comment:

"The variable product sold to client did exactly what it was supposed to do in bad markets; IE, provide a guaranteed minimum return of 7% on original investment with unlimited upside potential. However, since the actual markets went through one of the greatest downturns in market history, the client was upset that his market value (not guaranteed value) would have been more had he stayed in a fixed account earning a stated rate of interest rather than the stock market. Everything seems better when viewed in hindsight. The product sold to the client saved the client's investment for future income during the market downturn and did exactly what was advertised."
---
August 2011 Financial Event
Status:

Final

Type:

Short Sale of Home

Disposition:

Satisfied/Released

Broker Comment:

"Sale was part of divorce settlement so the property needed to be sold for less than the purchase."
---
January 2007 Employment Separation After Allegations
Firm Name:

Royal Alliance Associates, Inc.

Termination Type:

Discharge

Allegations:

See comment section.

Broker Comment:

"Royal and I had the same attorney. Since Royal was undergoing rigorous SEC examination, Royal felt this issue could complicate matters and although we left on great terms, they thought it best for us to change broker dealers."
---
December 2003 Customer Dispute
Status:

Settled

Allegations:

"Client alleges they were not informed that contributions to a charitable remainder trust could not be subsequently ithdrawn as a single sum payment.

Damage Amount Requested:

$15,000.00

Settlement Amount:

$50,000.00

Broker Comment:

"Client and their investment banking son-in-law knew they couldn't withdraw CRT proceeds as a lump-sum. It's basic to the concept and was discussed many times. Concept actually saved client $40,000 or more in MKT value. Reason for complaint was unfounded. The CRT is used to avoid cap gain tax on an asset that the client would never have sold. Therefore, why would they complain, after saving substantial dollars, that they couldn't get a single-sum payment when they would not have sold the asset in its entirety during their lifetime anyway. It doesn't make any sense. They received more benefit, more income, and because of the market collapse, the strategy saved them in excess of $40,000 in market value. Anyone can complain but I remain adament about the substance of our discussions and the fact that they and their investment banking son-in-law knew that the CRT assets could not be withdrawn in a single-sum payment. To this day, I still don't understand the origin of this complaint. Unfortunately in today's environment, litigation is rampant and a lot of it unjustified. I believe this complaint falls within that category and look forward to its resolution in my favor. I stand behind every recommendation that I made and full disclosure was given to the client. I simply regret that our conversations weren't taped because it would conclude this matter quickly. ***Without admitting any wrongdoing on the part of the representative and/or firm, the case was settled to avoid future litigation costs.****
---
Contact Us Today
The Sonn Law Group is currently investigating allegations that John Davenport recommended unsuitable investments. We represent investors in claims against negligent brokers and brokerage firms. If you or your loved one experienced investment losses, we are here to help. For a free consultation, please call us now at 866-827-3202 or complete our contact form.