FINRA was investigating Chrysadakis for alleged fraudulent activity.
The Sonn Law Group is investigating allegations that John Chrysadakis committed fraudulent activity. If you or a family member has suffered losses investing, we want to discuss your case. Please contact us today for a free review of your case.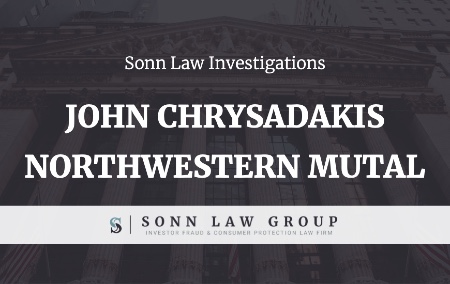 John Chrysadakis (CRD#: 5680661) consented to the sanction and entry of findings that he refused to produce information and documents requested by FINIRA after his member firm submitted a Form U5 that disclosed he was permitted to resign while under external review.
The findings stated that the firm was reviewing Chrysadakis for alleged fraudulent activity, including alleged forgery of non-variable insurance forms and alleged submission of unauthorized non-variable policy applications, and for undisclosed financial liens and judgments.
After his resignation from the firm, a customer filed a complaint against Chrysadakis in the Connecticut state court wherein the customer alleged that he converted approximately $100,000 from it when he served as its treasurer.
Chrysadakis was permitted to resign from Northwestern Mutual in March 2019 following while under review for the allegations listed above. He had been associated with Northwestern Mutual since 2010.
In October 2018, Chrysadakis was named in a customer dispute alleging that the signatures on six-term conversion express documents requesting conversion of their non-variable term insurance were not authentic. The matter was settled for $4,837.40.
Contact Us Today
The Sonn Law Group is currently investigating allegations that John Chrysadakis forged insurance forms and committed other misconduct. We represent investors in claims against negligent brokers and brokerage firms. If you or your loved one experienced investment losses, we are here to help. For a free consultation, please call us now at 866-827-3202 or complete our contact form.