The claimant alleges that the investments recommended by Franklin were unsuitable.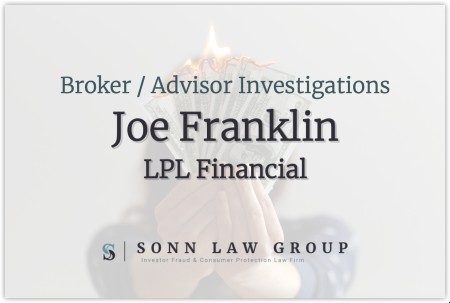 Joe Franklin (CRD#: 2673133) was registered as a broker with LPL Financial from 2010 until 2020. Previously, Franklin was registered as a broker with Raymond James & Associates from 2001 until 2010.
Franklin has three disclosures on his BrokerCheck report. Two of the customer disputes against Franklin were denied.
November 2020 Customer Dispute
Status:

Pending

Allegations:

Claimants allege that they invested in Franklin Square BDCs, Hines Global REIT, HMS Income Fund, WP Carey, CIM REIT, KBS Real Estate Trust, and CION Investment Corp upon their broker's misleading recommendation, which did not suit their allegedly conservative investment profile. Activity period: 6/2010 to 9/2019. Although I am not named a party in this arbitration, I intend to work with LPL to demonstrate that the allegations in the statement of claim are false. The arbitration allegations do not mention that the client made significant returns overall and on all but one of the investments at issue. The allegations do not mention the distributions the client received over the many years, or the performance or the other parts of the client's diversified portfolio. The investments at issue collectively compromised well under 15% of the client's reported liquid net worth, and the client was not over-concentrated. The client took the time to review all the offering materials, including each prospectus as well as other material before the client elected to proceed with each investment. In connection with last purchase many years ago, the client handwrote "I want to receive more income than I am currently receiving in the money market." He also affirmed the following statement: "The client wants to have a more diversified portfolio including fixed income, alternatives, and equities. He is willing to take more risk in order to be able to achieve his diversification." Ultimately, the investments complained of by the client were suitable for his needs at the time they were made, and he understood the risks associated with each of them. The client never complained about these investments for many years while he collected distributions, and he reinvested the dividends to continue to purchase more shares. For these reasons, and more, I assert that the allegations in the arbitration have no merit. 

Damage Amount Requested:

$153,000.00
---
Contact Us Today
The Sonn Law Group is currently investigating allegations surrounding Joe Franklin. We represent investors in claims against negligent brokers and brokerage firms. If you or your loved one experienced investment losses, we are here to help. For a free consultation, please call us now at 866-827-3202 or complete our contact form.