FINRA initiated an investigation into allegations that Dampf misappropriated funds from elderly clients.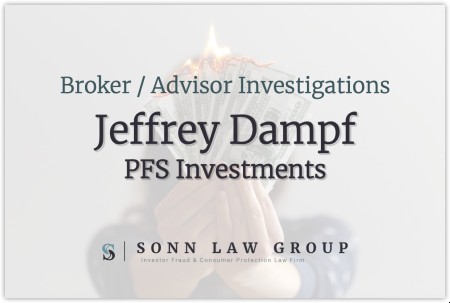 Jeffrey Dampf (CRD#: 5676205) was registered as a broker with PFS investments from 2009 until 2021. Dampf was not registered with any other firms during his career as a financial advisor. 
One year ago, Dampf was charged by the Ocean County Prosecutor's Office in New Jersey with attempted theft following allegations that he misappropriated funds entrusted to him for the care of two elderly clients. 
Dampf has two disclosures on his BrokerCheck report. 
October 2021 Regulatory Judgment
Status:

Final

Initiated By:

FINRA

Allegations:

Without admitting or denying the findings, Dampf consented to the sanction and to the entry of findings that he refused to provide on-the-record testimony or to produce the documents and information requested by FINRA in connection with its investigation into allegations that he misappropriated funds from elderly individuals.

Resolution:

Acceptance, Waiver & Consent (AWC)

Sanctions:

Bar

Registration Capacities Affected:

All Capacities

Duration:

Indefinite

Start Date:

10/1/2021
---
September 2021 Employment Separation After Allegations
Firm Name:

PFS Investments Inc.

Termination Type:

Permitted to Resign

Allegations:

We received an information request from FINRA indicating that Dampf may have been charged with felonies relating to taking money from the elderly. We had no such information and were unable to locate any publicly available information to confirm or refute the alleged charges.
---
Contact Us Today
The Sonn Law Group is currently investigating allegations surrounding Jeffrey Dampf. We represent investors in claims against negligent brokers and brokerage firms. If you or your loved one experienced investment losses, we are here to help. For a free consultation, please call us now at 866-827-3202 or complete our contact form.