FINRA requested information and documents from Kennedy in connection with its investigation into a tip received.
The Sonn Law Group is investigating allegations that James Kennedy committed misconduct. If you or a family member has suffered losses investing, we want to discuss your case. Please contact us today for a free review of your case.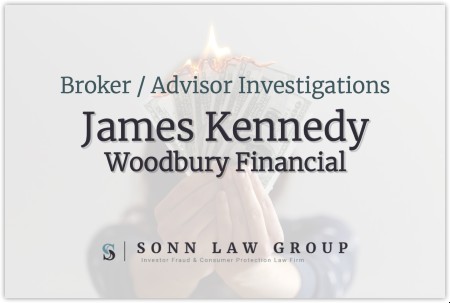 James Kennedy (CRD#: 1527660) was recently barred by FINRA after refusing to provide information and documents in connection with its investigation of him based on a tip received. FINRA sent requests to Kennedy on May 6, 2019, August 6, 2019, and August 29, 2019, for the production of documents and information. According to FINRA's findings, Kennedy provided partial responses to the requests and appeared in person for testimony in December 2019. 
According to FINRA, Kennedy stopped cooperating with the investigation in March 2020. Without admitting or denying the findings, Kennedy signed a letter of acceptance, waiver and consent on April 20, 2020, agreeing to the sanction. 
Kennedy was first registered with FINRA in 1986. He was registered with Woodbury Financial from January 2007 until March 2020. On March 31, 2020, Woodbury filed a Form U5 disclosing Kennedy's termination, explaining that he was, "permitted to resign for engaging in an unapproved outside business activity involving a financial transaction with a couple of clients."
Benson has one other disclosure on his BrokerCheck report.
---
April 2007 Customer Dispute
Status:

Settled

Allegations:

"Customer incurred a tax liability based on advice from [Kennedy] in 7/06. Customer sold Hartford Mutual Fund Holdings and transferred monies from a Hartford variable annuity to a Hartford fixed annuity. Customer took constructive receipt of annuity and mutual fund proceeds and wrote personal check to purchase fixed annuity. Customer expected non-taxable transfer of annuity. In 01/07 customer received 1099 from Hartford Life reporting annuity liquidation as ordinary income. 3/21/07 Customer made request of Hartford to remedy taxable exchange to non-taxable exchange by requesting corrected 1099R or requesting reimbursement for tax burden of 'approx $8,000.00'. Customer cited [Kennedy] with miscommunication of taxable/non-taxable event."

Damage Amount Requested:

$8,000.00

Broker Comment:

On 04/17/07 Hartford issued corrected non-taxable 1099R to customer, which satisfied customer's complaint. Representative fully disclosed all information on trades in question & potential for tax liability. 
---
Contact Us Today
The Sonn Law Group is currently investigating allegations that James Kennedy committed misconduct. We represent investors in claims against negligent brokers and brokerage firms. If you or your loved one experienced investment losses, we are here to help. For a free consultation, please call us now at 866-827-3202 or complete our contact form.